Do you want to install a few best automatic chicken waterers in your poultry coop? If yes, this guide will help you to choose one from different types and designs of automatic drinker systems.
Also, we have reviewed a few best automatic poultry waterer systems and kits with their pros and cons. Some people find an automatic watering system in chicken coops beneficial and some do not.
Is it worth it for you to use an automatic chicken watering system in your backyard coop? Just read this article and make the correct decision.
What are Automatic Chicken Waterers?
Automatic chicken waterers are different from other standard drinkers because they provide a continuous flow of water for a long time.
It is best for large-scale chicken farming. Installing an automatic drinker in your chicken farm reduces your workload and time.
These automatic chooks drinkers come in various designs like bucket-shaped and PVC pipe water flow systems. Automatic poultry coop waterers are fitted with cups and nipples, which reduce the wastage of water.
Nowadays, most broilers and large-scale chicken farmers use fully automated chicken waterers inside their poultry sheds.
Also read: Best DIY Ideas for Making PVC Chicken Coop and Run
Benefits of Using Automatic Chicken Waterers?
Chickens drink lots of water, and when it comes to flocks that live inside a shed for the whole day, you need plenty of water.
Demand for water increases to double in summer and hot climate countries.
But giving plenty of water is not accessible if you are using a traditional design chicken waterer because you need to clean all the drinkers and fill water inside them one by one.
Overall it's a long and challenging process. So, automatic chicken waterers are designed to provide water to your chickens for a long time.
In most of the poultry industries, drinkers are attached to a large size water tank. The water tank is filled with water which supplies water to all the automatic drinkers through pipes. 
It reduces lots of time which you can use in other works. For small-scale backyard chicken keepers, buckets and hanging automatic chicken drinkers are best. These types of drinkers are also called semi-automated chicken waterers.
In easy words, whether the drinker is small or big, automatic chicken waterers always provide a continuous water supply to flocks for a long time.
Types of Automatic Chicken Waterers
Below are some best types of automatic chicken waterer system-
The Cup and Nipple Waterers
Most people call cups and nipples are the types of waterers. However, these are drinker accessories that you can use to make a beautiful automatic chicken waterer at home.
This type of automatic poultry coop waterer contains a cup with a trigger in the inside bottom. When the chicken's peck drinks water, the trigger activates and fills the water again to the required level.
Nipple waterers are also used in the same manner, but working is little but different. It contains a steel nipple that is closed by a spring. When a chicken pecks on the steel nipple, a little water comes out from it.
Bucket and Hanging Type Semi-Automatic Chicken Waterers
Small-scale chicken raisers mainly use the semi-automatic waterer. This type of poultry drinker is best for a 10-50 chicken flock.
In this type of design, mostly a container is present in the upper part and on the lower part the water dispenser. 
The semi-automatic chicken waterers containers have a cap and a hanger so that you can hang them wherever you want inside the coop.
With that container, various types of water dispensers like nipples, cups were used. Once you fill up water inside these automatic waterers, you don't need to fill it for 4-5 days.
Fully Automatic Chicken Watering System For Large Coops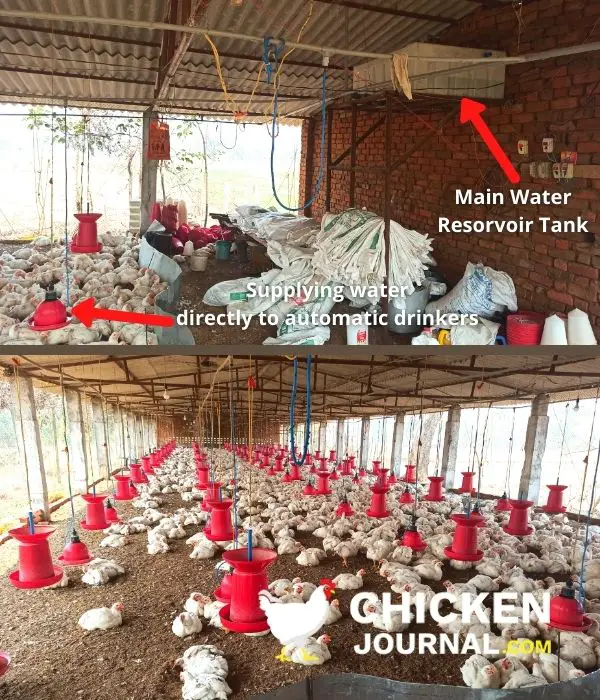 The fully automatic chicken waterers are made for a completely auto refill and water supply system.
It is mainly available for large-scale chickens, but now few companies make it in small designs where the automatic waterers are fitted with a hose.
The hose is connected with the main water tank using the garden hose, which supplies water inside the bucket (container) 24X7.
Inside the fully automatic chicken watering system, a float valve is present. This float valve inside fills up the waterer container automatically when the water level goes down.
So, automatic drinkers are a tension-free thing to use if you are busy and go out every day after giving feed and water to your boys and girls.
There is no need for extra labor in automatic chicken waterers, you have to fill the main reservoir weekly, and the drinker works continuously. 
Best 5 Automatic Chicken Waterers: For Your Poultry Birds
Below is the list of best automatic chicken waterers to provide continuous water supply to your birds-
Last update on 2022-06-13 / Affiliate links / Images from Amazon Product Advertising API
Last update on 2022-06-14 / Affiliate links / Images from Amazon Product Advertising API
If you are searching for an automatic chicken waterer for baby chicks, it is one of the most popular ones. You can also hang it on the chicken coop netting. 
Fill it with water and stay stress-free for 24 hrs if you have 4-5 chicks. A U-shape cup design water dispenser is available in this automatic poultry drinker.
Pros
Sturdy container.
Easy to set up.
Cons
Last update on 2022-06-14 / Affiliate links / Images from Amazon Product Advertising API
It is one of the best automatic chicken watering systems by the famous brand Little Giant. This drinker provides a continuous flow of clean water to your poultry birds.
The automatic chicken drinker contains a hard plastic bowl and a hose for connecting with the garden water supply. This waterer is small but good for keeping the water clean.
Pros
Good quality build.
Includes hose pipe.
Best for medium-large size chicken breeds.
Cons
Not for baby chicks.

Not for freeze cold areas.

No cap.
Last update on 2022-06-14 / Affiliate links / Images from Amazon Product Advertising API
If you want to make your automatic chicken waterer system at home, it is one of the best DIY kits. This pack includes 4 Premium Oasis Cups, Pressure Regulator, In-line Filter, Garden Hose adapter, installation guide.
You can use PVC pipes to make your own automatic nipple waterer system. You can add more cups and make it as you want. 
Pros
Good Automatic drinker DIY Kit.
Cons
Not for use in cold, snowy areas.
Setup needs time.
RentACoop Twin Cup Chicken Waterer - 2 Gallons Capacity
🐔 WORKS GREAT FOR ALL TYPES OF POULTRY! A great...
🐔 AUTOMATIC FILLING CUPS! NO-MESS CHICKEN NIPPLES!...
🐔 SPACE SAVING! This waterer can be placed standing...
🐔 SO EASY TO KEEP CLEAN! The design of this waterer...
🐔 Includes (1) BPA-free 2 gallon waterer, 2 red...
Last update on 2022-06-14 / Affiliate links / Images from Amazon Product Advertising API
The RentACoop Twin Cup chicken waterer is a 2 Gallon automatic fill drinker. It includes two cup drinkers, which are suitable for both adult chickens and baby chicks.
You can easily mount it on a wood chicken coop and run area. The package includes two screws and two hooks for hanging on the coop.
Pros
Best for both adult chickens and baby chicks.
Study Design
With Cap.
Cons
Last update on 2022-06-13 / Affiliate links / Images from Amazon Product Advertising API
It is a bucket design semi-automatic chicken waterer with a lid. This is also a fantastic design automatic drinker with horizontal mount nipple waterers.
If you have 12 hens, then this 5-gallon bucket lasts for a week. So, you have to fill it once a week.
Pros
Easy to use.
Best for all sizes of chickens.
Cons
Not for excessive cold areas.
Last update on 2022-06-14 / Affiliate links / Images from Amazon Product Advertising API
The Premier Automatic Waterer poultry bird is one of the best unique design drinkers. It is a horizontal long design automatic drinker containing five drinking holes on each side.
This automatic waterer is best for chickens, ducks, geese, turkeys, and other poultry birds. A pipe system is also present in this drinker, which provides a smooth and continuous water flow.
You have to connect your garden hose with the drinker, and its internal float will regulate the water to the correct level without spilling the water.
Pros
Easy to use.
Sturdy drinker.
Best for 10-20 chickens.
Cons
Last update on 2022-06-14 / Affiliate links / Images from Amazon Product Advertising API
It is another one of the best DIY automatic chicken waterer kit. You can make an automatic drinker at home using an old plastic bucket or any other closed container.
This automatic poultry drinker kit includes 4 cup drinkers, and the U.S patented float valve, which helps to fill the bucket automatically. Just connect it with your garden hose and become stress-free for giving water to your flocks.
Pros
Best for 10-15 birds.
Best DIY Kit.
Cons
The float valve needs improvement.
Do You Need an Automatic Chicken Waterer?
Automatic poultry waterers are hassle-free drinkers, which drastically reduce your effort to give water to your chickens.
If you are stressed about giving water to your large number of chickens, these automatic chicken drinkers help you. 
Also, you don't have to worry about the shortage of water when you go out for a few hours. 
So, If you have more than 30-40 chickens, then bucket type semi-automatic chicken waterers are recommended.
If you are a chicken farmer raising more than 500 chicks, use cup and nipple drinkers with PVC pipe connections. Use also needs a large size tank so that it will avoid the lack of water.
Disadvantages of Automatic Chicken Waterer
Most of the automatic chicken waterers contain hose systems, and these small pipes provide the continuous flow of water inside the drinker.
However, the issue occurs in cold freezing areas because most of the pipeline in automatic poultry waterer supply blocks due to ice inside the hose.
Also, cleaning the semi-automatic chicken drinkers is not that much difficult, which was used by most of the small-scale chicken raisers. 
But If you are using lots of automatic chicken drinkers, it's tough to wash all the pipe systems. 
Also, you may see algae and biofilms inside the supply system, so you may need to remove them using a tablespoon of vinegar for each gallon of drinking water.
Summary
After reading this guide, I hope you can decide whether you need an automatic chicken waterer or not.
If you have a small number of flocks, we recommend using a semi-automatic drinker, which will cost you less and work better.
For many flocks, fully automatic drinkers are recommended because it saves lots of time and labor costs. The above reviews help you to select one of the best automatic waterers for your chickens.
Which automatic poultry waterer are you using in your backyard chicken coop? We will love to read your thoughts.
Comment below if you have any queries and suggestions regarding automatic chicken waterers.