Are you looking for some best tips to make chicken nesting boxes at home? If yes, keep reading. Here you will get DIY tips and ideas for homemade chicken nesting boxes.
Your hens will love these DIY nesting boxes and happy to lay their valuable eggs comfortably.
Lots of poultry raiser do not make these chicken coop nesting boxes inside their coop. So, its cause many types of problems during collecting of eggs.
So, in this guide you will know all about making best chicken nesting boxes at home using your scrap or used products in your backyard.
Let's do some DIY to make your first chicken nest box using various metal and plastic materials at your home.
So, let's understand what are these chicken nesting boxes?
What Are Chicken Nesting Boxes?
Chicken nesting boxes are box shaped enclosed area made inside a chicken coop so that hens lay their eggs comfortably. These boxes are also called as chicken nesting coops.
This is best place for hens to lay their eggs because they like laying eggs in a enclosed, dark cozy place, where they feel safe.
Using a chicken nesting box also helps you to collect the eggs easily without breaking them.
Chicken nesting boxes are easy to make at home using some basic tools. I can guarantee you after reading this complete guide you will able to make a beautiful cozy nesting coops for your girls.
Benefits of Using Chicken Nesting Boxes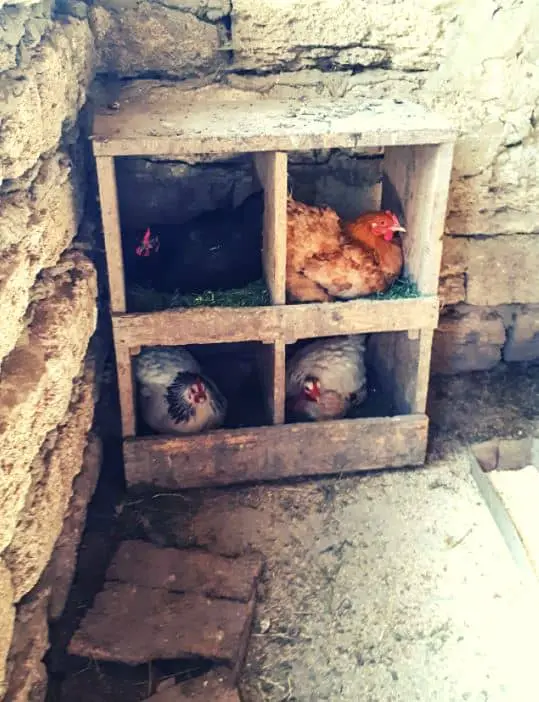 Many chickens put an egg or two on the floor because of uncomfortable coops. They want to find a place outside the chicken house, a safe place to lay their eggs.
Chicken nesting boxes provide them a cozy feeling during egg-laying process. It is one of the complex periods for hens so they need a silent and dark place which is fulfilled by these chicken nesting coops.
Also chicken nesting boxes avoid breakage of eggs because no roosters and chicken stand and jump inside the nesting box.
These nesting boxes for chickens provide a safe place to hens so that they will lay their eggs in a cozy environment.
Making chicken nesting box at home may take some time and efforts to train them. In starting some may like to lie in a corner than in a nest.
Nest boxes need not have any completed construction. You can make it easily with plastic, metal, and wood, etc.
To avoid crowding, we recommend using one chicken nesting box for every 4-6 chickens. Although chickens are like humans, often believe that something used by someone else is inherently better, and will try to lay in the same box as anyone.
A standard nesting coop for conventional chickens such as Sussex, Leghorns, Plymouth Rocks, and hybrid layers needs to be a 12-inch cube; 12 inches tall, wide and deep.
This will fit the average chicken very well. Larger birds like Jersey Giants will need 12 inches deep, 14 inches wide and 12 inches tall.
How to Encourage Chickens to Lay Eggs in Nesting Boxes?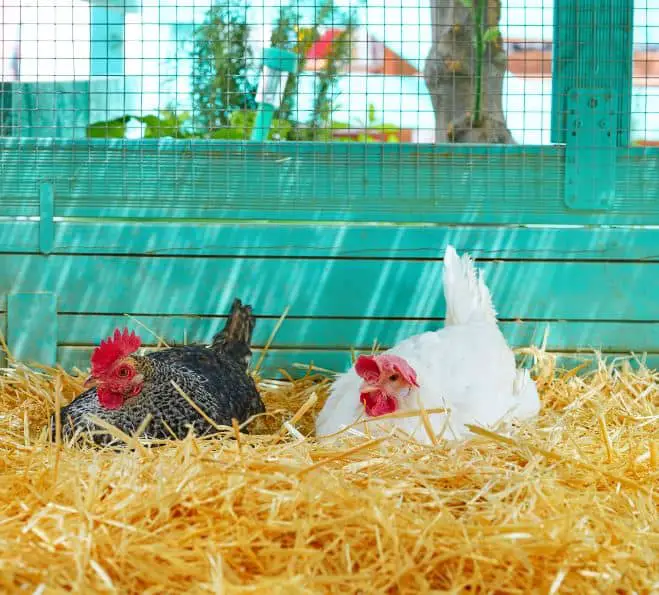 Every chicken farmer would prefer hens to lay their eggs in the nesting boxes provided for this laying purpose, not on the corners, in the ground, hidden in tall grass or hay bales. Hens are creatures of habit and can be very stubborn about this behavior.
However, do not give up. There are several ways to encourage chickens to lay the eggs in their nesting coops, ensuring that you get the maximum number of fresh and clean eggs.
So, Below are the Important questions and points to understand the proper use and management of chicken nesting boxes –
1. How Many Nesting Boxes per Chicken Is Required?
One chicken nesting coop or box for every four to six chickens is ideal for making it comfortable inside it.
Paradoxically, many nesting boxes will make chickens use them for sleeping and defecating, but less likely to lay eggs in them.
So, It is important to follow the tips given for encouraging chickens to lay eggs in nesting boxes only.
2. How to Make the Chicken Nesting Boxes Comfortable?
Make sure the chicken nesting boxes are in a dark and quiet corner of the chicken coop. There may be added curtain to make it darker.
Chickens have the instinct to lay their eggs in a safe place. The boxes should be at least a few inches off the floor.
3. How to Collect Eggs Regularly to Get More Eggs?
Be sure to collect eggs regularly, as an already filled egg carton is not very accessible to a chicken looking for a nesting site.
One or two eggs in the box will not deter a chicken from adding a few more, but most chickens are drawn to an empty nesting box as long as they are clean and comfortable.
If you collect the eggs twice a day, the chickens will probably try to fill these empty places with more eggs.
4. How to Train the Chickens With a "Nest Egg"?
You can buy fake ceramic eggs at food or supply stores or use a golf ball. When the hens are ready to lay eggs, placing the fake egg in a nest will give them a hint that the boxes are also "the place" to lay their eggs.
5. How to Make the "Wrong" Places Difficult for Your Chickens to Lay Eggs?
If a chicken has chosen the wrong nesting point to lay her eggs, try to block it or make it uncomfortable to her. You can cover that place with a piece of wood or another object so that it's impossible for her to reach the wrong nesting point.
In other areas, rocks or plastic bottles crammed into your forbidden nesting site may be enough to convince them to return to the comfortable chicken nesting box you provided.
6. Keep Your Chickens Confined Until Midmorning
Most chickens lay eggs early in the day. By keeping them in the cage until it does most of the laying. You maximize the chances that they will lay eggs in the nesting boxes instead of finding a cozy spot in the yard outside the chicken coop.
7. How to Make Clean, Soft, and Comfortable Chicken Nesting Boxes
As shavings or other bedding are depleted in nesting boxes, chickens avoid them. Keep shavings or straw in the proper, soft nest boxes, and change them regularly to encourage the chickens to lay in the nest boxes instead of somewhere else.
8. Take the Chicken in the Act and Move It
This requires some careful vigilance, but if you see your chicken are settling in the illegal nesting site, you can gently but insistently grab it and take it to an empty nest.
Eventually, she will tire of being disturbed and go straight to an available nest when the spirit says it is time for bed.
 9. Remove the Chickens at Night
Chickens that have the habit of sleeping in their nesting boxes often refuse to lay eggs there. This may be out of an innate sense of hygiene among them.
When you notice your chickens settle to sleep in the nesting boxes, instead of lying on the floor, cuddle or physically grab them and put them on perches.
10. Clean the Nesting Boxes Regularly
Nesting boxes are easy to clean, and regular cleaning is important. If they are challenging, then because of human nature, it becomes a dreaded task and not as frequently clean as it needs to be.
So the eggs will get dirty, the boxes get disgusting and the chicken preparation is not as fun as possible to be. Clean boxes are also healthier for chickens. They harbor fewer pests, such as bacteria and parasites that can make your chickens sick.
How to Make Chicken Nesting Boxes From Wood, Metal, and Plastic?
In chicken nesting boxes online sale you will see different types of coops –
Metal Chicken Nesting Boxes
Plastic Chicken Nesting Boxes
Wooden Chicken Nesting Boxes
Vintage Galvanized Chicken Nesting Boxes
We had our fair share of homemade wooden nest boxes and the good thing is that you can usually make them from scrap material, costing little or no money.
It is also simple enough to make a nest. If a person knows to use a saw and a drill, he can make a nest box. The problem I found with wooden boxes is that they are challenging to keep repeated clean.
Porous wood gives small pests like bacteria and parasites many nooks and crannies to the neighborhood. They also contain moisture as damp residue, broken eggs, and many other insects.
We recommend it uses wooden chicken nesting boxes with paint to seal the pores and make them easier to clean. There are preferred metal or plastic boxes because they can scrub in their original cleanliness.
What Are the Chicken Nesting Box Dimensions and Sizes?
The right size for a chicken nesting box is about 14"x14"x14". If you keep bigger chickens, like Jersey Giants, you could go up with that number, just as chicken boxes might be smaller. You want them to feel like it involves them in space without having to squeeze.
What Must Be the Height of Chicken Nesting Coops From the Floor?
Floor-mounted enclosures are clean. There is a suitable height from 2 to 4 feet off the ground. This facilitates egg collection.
How to Make Bedding for a Chicken Nesting Box?
Clean bedding is the key to cleaning the boxes. The box should allow a sufficiently deep layer of litter (usually controlled by some border on the front of the box) to protect the eggs dropping and break if they are pushed by other chickens using the same box.
Bedding also helps to prevent egg intake. If chickens accidentally break an egg, the instinct is to eat the egg to "hide the evidence" from potential predators.
The problem is that once chickens taste how delicious their eggs are; they drop and break eggs on purpose.
Chicken Nesting Boxes Plan as Numbers of Chickens
There is needed about one nesting box per five chickens. Less than that, it may get some territorial issues.
If you keep more than that, the chickens will probably start using the boxes for rest and sleep. If this happens, the boxes will get dirty quickly because the chickens poop where they sleep.
Discourage Roosting
A right nesting box discourages perching both inside and out. The problem with many home nest boxes is that they have a flat top/roof.
For chickens, this requires a very sloping area. After a few nights, the top of the nesting boxes will disgust, so to discourage upper roosting.
It should slope the roof of the box down a steep or make of a slippery material like plastic. The internal perch is another problem where chickens sleep inside nesting boxes.
To avoid this, do not offer too many boxes (as mentioned above).
Top 5 Best Chicken Nesting Boxes Online
Below, we have provided some examples of best chicken nesting boxes available in the online sale –
Last update on 2022-10-01 / Affiliate links / Images from Amazon Product Advertising API
This is one of the popular and best ready-to-use chicken nesting box available. The nesting box has 3 entrance holes, and it is suitable for 10-12 hens.
It is best for all types of chicken breeds. You can easily clean this chicken coop and installation is very easy.
The design also contain few swing perches so your chickens love to roost on them.
Last update on 2022-10-01 / Affiliate links / Images from Amazon Product Advertising API
This is another best nesting box for hens by a popular brand RentACoop. It has a sloped roof that prevents unnecessary roosting.
You hens will love the dark inside and feel secure, comfortable for laying eggs. The removable nesting part is easy to clean.
The nesting box floor is made of plastic polyethylene that does not allow bacteria to grow. For best use place the nesting box 2-3 inch height from the surface.
Brower 406B 6-Hole Poultry Nest
6 holes in 2 tiers; 30 hen capacity
Nest bottoms removable for easy cleaning and litter...
Easy to assemble with a screwdriver and wrench - no...
High quality galvanized steel construction; All exposed...
Ventilation holes in partitions for fresh air flow
Last update on 2022-10-01 / Affiliate links / Images from Amazon Product Advertising API
This is another best chicken nesting box by Brower. It is a metal made nesting box plan with holes.
It came in 3 types, 4 holes for 20 chickens, 6 holes for 30 chickens, and 10 holes for 50 to 60 chickens.
The bottom part of the nesting box is removable, which is for easy cleaning and litter removal.
Anyone can easily assemble this vintage design within 30-45 minutes. Rounded ventilation holes are also present for easy airflow.
These amazing chicken nesting boxes contain egg drop system for easy eggs collection.
Last update on 2022-10-01 / Affiliate links / Images from Amazon Product Advertising API
This Rural365 chicken nesting box is made of durable plastics materials high-density polythene that does not rust.
The sloped roof prevents roosting. This mount easily quickly and securely on the wall.
This pet nest box will be a welcome addition to your window, garden, porch, or yard setting up easy and quick. The nest box has a specific sparrow entry hole that prevents other predators from entering the nest.
Installation is as easy as placing a photo frame. Make sure the nesting box installs well before starting the breeding season.
Do not be discouraged if the hens do not nest immediately. Sometimes it takes time for birds to discover the nest. It should give attention to open the side door and clean each station. Remove or omit perches in the nest box.
It makes this nesting box of wood. A traditional and versatile nesting box that can be placed in any garden, at the window, porch, or backyard is so easy to install. You can use the rear slot to hang it on a suitable device or use a deck screw for extra support.
Benefits of Plastics chicken nesting boxes
They are easy to install, straightforward to clean, and can be entirely cleaned because they are made of washable plastic.
Plastic also prevents parasites from borrowing on the material. It has a sloping roof to prevent perching at the top, and the front of the box turns toward the entrance to encourage internal rest.
Harris Farms 2 Hole Nesting Box for Chickens
Harris Farms 2 Hole Nesting Box
Made of Rust-Resistant Galvanized Steel
Folded Edges and Ventilation Holes
Features a Hinged Perch to Allow Closing
Bottom Metal Inserts are Easily Removed for Cleaning
Last update on 2022-10-01 / Affiliate links / Images from Amazon Product Advertising API
This is another chicken nesting box by Harris Farm. It is a sturdy nest box contain 2 holes.
It is made up of galvanized steel so don't worry about rust. All the inner walls contain small holes for proper ventilation.
On the both sides of the nesting coop you will see 2 more holes for mounting.
How to Make Chicken Nesting Boxes at Home Using Scrap Material Like – Plastic, Wood, and Metal?
Do you like to know some amazing ideas to make chicken nesting boxes at home? Homemade chicken nesting boxes are stronger.
You can easily make chicken nesting boxes for your hens by using recycled and scrap materials.
If someone does not want to spend hard earned money, just try some simple DIY project in your weekend. You can find these items in your backyard as well.
Homemade Chicken Nesting Boxes DIY
Where do the chickens lay their eggs? If left on their own, they will find a place on their own, but you probably dislike it. Searching for hidden eggs in inaccessible dark nooks and crannies can be frustrating.
This can build your own even if you are not a professional carpenter, recycled materials or leftovers from other projects.
This specific DIY nesting box tutorial does enough for five chickens, but it may vary depending on the size of the chicken coop. Make adjustments as needed!
Materials Required Making Nesting Boxes
Five 2×4 wood (quantity varies; you will need at least five), Empty kitty buckets (one per chicken), Materials for a steep roof, Screws, Insulation, Washers, Screwdriver, Drill, Saw, Level measuring tape, Power tools, Highlighter.
TOOLS: It requires essential carpentry tools.
Steps to Make the Chicken Nesting Boxes DIY
1. Collect the Materials
Here is a detailed assessment of all materials needed to align with the list above. For the nest boxes themselves, we use cat buckets.
This is the perfect size and shape. These are free and suitable for reusing things instead of discarding it. We clean them thoroughly and let it air dry as long as possible.
You will need some full-length 2×4 feet wood. A reasonable estimate is to measure the width of all the nests together and buy five 2x4s of that length.
It may also require adding a steep roof to the top of the boxes. A roof serves two functions, which are a good advantage, but not completely necessary.
It can extend the ceiling over the front of the nest boxes like a visor, converting it to a little darker inside. That causes the chickens happy.
There can fix for the curtain at the entrance to keep the inside darker where the chicken feels secure to lay the Eggs.
The other good thing about a sloping roof is that it prevents birds from sitting on top of the boxes. Keeping them off the top is more necessary than frequent cleaning.
Another option is to cover and insulate the space between nest boxes and the floor. If you do that, it will need additional and sturdy material for it and insulation.
Tip: Insulate below the nesting boxes for additional heat if you live in colder regions.
We also added the side panel for an excellent finish and helped keep dirt out. We make the roof, bottom cover, and side panel of the remaining composite material from the house itself, but you can use whatever material you have on hand or can purchase.
Plywood, wood planks, lauan flooring, shed oriented board, metal roofing, or even kitchen worktop materials will work.
Just keep in mind that if it used some heavy, there would need to reinforce it with some extra 2 × 4 brackets. If you will also want to make sure the walls and floors are sturdy enough to support what it requires. Use that.
We use screws for mounting. You can use nails if that is what you have, but the screws are faster, easier, and safer. Also using screws, it is easier to disassemble the frame later if it needs modification.
There will need some washers too, just a few per nest, to prevent the back of the box from breaking. We use a type called "washers" that are large in diameter with a small hole( suitable to sit the head of the screw only) in the center.
Then gather the tools. There will need a drill, a screwdriver, a saw, a level, a tape measure, a ruler, and a marker. We use cordless power tools, but you can use whatever is most comfortable for you.
Now all materials are accumulated. There is time to build the DIY nesting boxes.
Get a look at where you want the nesting boxes to be fixed before it starts. Before beginning the actual construction process, we find it helpful to gain a visual perception of the space in which nest boxes will exist.
Measurement is essential, but it also helps to keep nest box components up and take a look. It understands keeping in mind that this is not brain surgery. If the result is not perfect, the chickens will probably not care.
We build ours with one end in the corner against a sidewall, and the other end opens into the open space. This is probably the setting that works best in most homes, but you can quickly adapt these instructions to suit your own needs.
2. Prepare the Boxes
 First, prepare the boxes. You already displayed them. You can now cut the folding lid part so it will have the smaller part. It will make a short wall for the chickens to nest in behind.
3. Cut the Wood 2×4 Feet Sizes
 Then, cut two pieces of 2 × 4 the length of the total boxes you intend to use. Mark off, apply a square if one. Now use one of the cut 2x4s and set the other aside for later.
3. Attach 2 × 4 to The Wall
Screw one of the 2x4s into the wall along the bottom edge where the nest boxes sit. This will keep supporting it. Make sure it is at the level.
4. Add Boxes
The boxes go in next. It is easy to install the boxes and build the surrounding supports. Real carpenters do it the different way around, but these methods also work.
Drill a hole at the bottom position of each box at the middle center. Keep the back of the nest box on top of the 2×4 that fixes.
Tight screw it at the position on the wall with applying the washer. Thus, repeat with another nesting box next to it until they are all in place.
 5. Create the Front Bracket
Then build the brackets along with the front. Calculate the distance between the floor and the bottom and cut a 2 × 4 to that length.
Attach it to the end of another long 2 × 4, one that it can cut and set aside before. Screw the small piece to the sidewall and secure it is 2 × 4; measure another 2 × 4 at a minimum as high as the top of the nests.
There is a need not to be precise because there will require cutting the top later. Attach it vertically to the front corner at the other end of the nest boxes.
Add a center beam in front of the nesting boxes. Your project should work as an active nesting area now!
6. Brace Floor
If you plan to cover the space between nest boxes and the floor. Place a strap on the floor to prevent it from bending in the middle.
Choose a 2 × 4 leftover or any board about 14 inches long. If you have a complicated or imperfect knot, this is an excellent use for it.
7. Build the Wall and Roof of the Sidewall
While you put the roof on the boxes, there is required to build the appliance to hold it. If you have not done before then, better to draw an angled line marking on the back wall where the top of the roof is going to the upper front edge of the nest boxes.
The further steps can be tricky, and there is a need to measure and cut the angles accurately. Measure a 45-degree bend from the edge lip of the nest boxes to the wall.
You can do this by using carpentry tools, a plastic protractor or just a level and straightedge. Mark it with a level line on the wall, the dimension of the nesting boxes.
Cut a small piece of 2 × 4 or cardboard and screw it into the sidewall at the corner end. You can tilt the edges, but you do not have to do if it does not feel so hard.
Measure twice, cut once. Getting the right angle is complicated; Get it as flush to the wall as possible. Now, for the other side, cut one side of a 2 × 4 at a 45-degree angle. Leave the other end long enough to go beyond the 2 × 4 vertical at the front corner.
Attach it to the wall. Trim the side end to fit flush with the vertical and remove the vertical end as well. There will be a key to holding the ceiling at the open end without bending.
Put a small floor stand at the open end for additional support and hold the sidewall if you are using one. Cut the flat material to size and snap it to the end.
Keep the chickens out from behind the boxes by blocking it with a sidewall. Measure the roof area by adding at least four inches of overhang and cutting out the flat material. Measure the top. This will be a basic rectangle mounted on top. Attach to angled keys.
8. Bottom Cover
Take the measurement, cut, and attach the bottom cover. Add shavings, hay, and thus boxes are ready.
There may add fake eggs because it finds that chickens prefer to stay where another bird has already lain. Fake eggs also tell the chicken that this is a safe place to nest.
Congratulations! You built a best chicken nesting box quickly and cheaply, using recycled materials, and your chickens will enjoy the fruits of your work for many years. With any luck, they will thank you for the daily gifts of fresh and delicious eggs.