Are you searching for one of the best automatic chicken feeders for your flock?
Do you want a faster, easier way to feed your birds? 
If you are fed up with refilling chicken feeders repeatedly, this guide will help you a lot.
Raising chickens is enjoyable, whether you're a new or experienced farmer. 
Keeping feeders full is a significant concern in poultry farming. It can be time-consuming and frustrating if you have a large chicken flock or a busy schedule. 
Luckily, automatic chicken feeders will save your day! 
These genius inventions make chicken feeding easy, so you save your time and less time worrying about repeated filling. 
You can choose an automatic chicken feeder that fits your needs and makes your life easier, as they are available with different features and designs. 
This blog post comprises the top 10 automatic chicken feeders on the market. As well as the types, uses, buying, and cleaning guide on automatic chicken feeders.
Also read: Best small to large chicken feeders
What Are Automatic Chicken Feeders?
Automatic chicken feeders simplify poultry farming and improve chicken feeding. They were built to give a steady supply of chicken feed, avoiding the need for daily physical feed refilling. 
Automatic chicken feeders have many advantages. First, they save chicken owners time by eliminating manual feeding and monitoring. 
In a few advanced chicken feeders, timers and sensor systems distribute a specified feed regularly, guaranteeing a steady feed supply. 
Automatic chicken feeders maintain hygiene and reduce waste. Feed is kept dry and clean in these feeders to prevent spoiling. These feeders also reduce spillage and provide fresh feed to flocks.
These automatic chicken feeders come in different types and designs. Some feeders keep a lot of feed for larger flocks or longer durations. 
While other models are portable and customizable for smaller flocks or shorter durations, The poultry farm's needs determine the automatic feeder type, size, and design. 
Let's understand the different types and designs of automatic chicken feeders.
Also read: Feeding food scrap to chickens
Gravity Feeders: Simple Yet Effective
In chicken farming, efficiency and convenience are crucial. Automatic chicken gravity feeders help by dispensing feed more quickly and more efficiently. 
Gravity feeders for chickens use gravitational force to dispense the feed. As the chickens consume the feed, more is released, guaranteeing a steady supply. 
This saves farmers time and effort by eliminating daily manual feeding. They are available in cylindrical, rectangular, triangular, and many other designs. 
Few are made up of putting feed in trays or buckets. A container keeps the feed fresh and pest-free. This saves money and maximizes chicken feed intake. 
Gravity feeders are available in both large and small sizes. The best part of these chicken feeders is that they are cheap and efficient. 
They are used for both backyard chickens and large-scale commercial farming. Below, we have provided a list of the top automatic gravity feeders.
Last update on 2023-12-07 / Affiliate links / Images from Amazon Product Advertising API
The OverEZ Chicken Feeder makes feeding your hens easy. This 50 lbs feed storage capacity automatic gravity feeder for chickens eliminates frequent refilling. 
Enjoy lower maintenance and more comfort. This chicken feeder can be used indoors or outdoors and is made for farm durability. 
This UV-protected, food-safe, BPA-free, and recyclable plastic product eliminates waste before, during, and after use. 
The three smart-feeding ports keep birds from soiling and spilling feed, cleaning the environment. 
The rainproof feeder's port overhang and hidden recessed channel prevent water from getting into the feeder, which protects your bird's food. 
Unlike other feeders, cleaning and refilling on the ground is easy. The wide-mouth hole makes filling easy, and the lid keeps water out. 
Pros: 
Large feed storage capacity reduces refill frequency. 
Both indoor and outdoor use. 
UV-protected, food-safe, BPA-free, recyclable plastic for durability and safety 
Three smart-feeding ports reduce chicken waste by preventing soiling and spilling. 
Port overhangs and hidden recessed channels minimize feeder water leakage. 
Easy to clean and refill on the ground 
Chickens can always get food via gravity-fed design. 
Chickens eat all feed from a shallow base, reducing waste. 
Cons: 
It may be too large for a tiny coop. 
The cost is high as compared to metal feeders. 
Extreme weather may make plastic feeders less robust than metal ones. 
The feeder is heavy to move when filled with 50 lbs of feed.
Last update on 2023-12-06 / Affiliate links / Images from Amazon Product Advertising API
The Royal Rooster automatic chicken feeder has a gravity feed dispenser. This innovative feeder reduces waste and feeds chickens, saving time and money. 
The feeder only gives chickens what they need to avoid overeating, and the long PVC tubing reduces refills.  
This feeder also deters sparrows, squirrels, and rats. It's a gravity-fed dispenser; the rain cover ensures you feed your chickens.  
The Royal Rooster feeder is simple to use and clean. Remove the lid, fill it with poultry grit or feed, and unclip it for washing. 
Hooking it to chicken coop wire or mounting it to a wall with the brackets makes installation easy.  
This 7-lb feeder can hold feed for 4–6 chickens, depending on refilling. It's the right size for less mess and happy, well-fed birds. 
The Royal Rooster Automatic Chicken Feeder is ideal for quick and easy poultry feeding.
Pros:
This feeder reduces feed waste and saves money. 
The rodent-proof design feeds only poultry. 
Simple to use and refill with a removable lid.
Installing on mesh coop wire or the wall is easy with brackets. 
UV-resistant, durable PVC plastic for all climates.
Ideal size for 4–6 hens, less mess. 
Easy to clean with a removable lid for complete washing. 
Cons: 
Not for large flocks. 
Refills are needed for larger flocks or feed-hungry chickens.
The feeder is for larger birds, so it may not work for little chicks. 
It may only work for some coop layouts due to mounting options. 
The rain cover may not protect against solid rain. 
Quick and easy assembly and installation are required. 
Unlimited feed may cause hens to overeat.
Last update on 2023-12-07 / Affiliate links / Images from Amazon Product Advertising API
The Rural365 50 lb capacity galvanized chicken feeder is a weatherproof coop dispenser that is the best way to feed chickens, quails, ducks, and other domesticated birds. 
Galvanized steel makes this poultry feeder rust-proof and weatherproof. 
Are you concerned about chickens spreading the seeds? An attachable awning secures feed in this rat-proof poultry feeder. 
The feeder holds 50 lbs, so your flock will always be hungry. This feeder's cover makes refilling and cleaning easy. 
It can also be securely attached to your coop using the pre-drilled holes on the back panel (mounting supplies are not provided). 
The Rural365 Chicken Feeder simplifies feeding and avoids mess.
Pros: 
Provides a steady supply of feed for chickens.
Made of galvanized steel, it ensures durability and resistance to rust.
It is designed to prevent poultry from tossing seeds out.
It can hold up to 50 lbs of feed.
Includes a lid for easy refilling and cleaning.
It can be securely mounted to a coop.
 Cons: 
Some assembly is required.
Mounting supplies are not included.
Last update on 2023-12-07 / Affiliate links / Images from Amazon Product Advertising API
Suplklz's DIY Chicken Feeder Rain Proof Poultry Feeder Port Gravity Feed Kit! 
This creative, easy-to-install feeder lets you build an outside chicken feeder in minutes. 
Its 4 chicken feeder ports and 3.15″/80 mm hole saw make it easy to make an automatic chicken feeder for a 5-gallon bucket or larger box. 
 This rainproof polyvinyl chloride (PVC) feeder keeps feed dry in bad weather. Connect seals keep feed fresh and prevent moisture.  
This feeder provides your chickens with a steady feed with gravity-automated feeding. 
This chicken feeder eliminates spills and makes feeding birds easy. 
The feeder ports are durable plastic, and the package includes an 80mm hole saw for easy installation. 
This DIY Chicken Feeder Rainproof Poultry Feeder Port Gravity Feed Kit is essential for chicken owners and works with buckets, barrels, bins, troughs, boxes, and more. 
Enjoy the simplicity and effectiveness of this great product by upgrading your poultry feeding system today!
Pros: 
Easy to install. 
Rainproof design.
Gravity-automated feeding. 
Spill-proof design.
Durable plastic feeder ports can endure fowl pecking and scratching. 
Flexible use with buckets, barrels, bins, troughs, boxes, and more 
Cons: 
Installation is easy but requires basic skills and creativity.
Need bucket or larger box additionally.
Need periodic maintenance and cleaning. 
Limited weatherproofing
Require additional setup for pest protection. 
Treadle Feeders: Keep The Wild Birds Away
Treadle feeders are a popular type of automatic chicken feeder. They have changed the poultry feeding system. 
These innovative feeders prevent wild birds from eating chicken feed, ensuring your flock is fed without interruption. 
How do treadle feeders work? It's easy. These feeders have bottom treadles or pedals. 
When a chicken steps on the treadle or pedals to get feed, a mechanism opens a door. 
The door closes after the chicken steps off the treadle, preventing other birds and predators from eating. 
Many benefits come from treadle feeders. First, they deter wild birds. Wild birds can spread diseases to your flock, so this is vital. 
Treadle feeders also keep rats and mice away from the feed, decreasing contamination. Chickens may self-feed when they're hungry with treadle feeders. 
This is helpful for free-range chickens since they can graze all day without a feeding schedule. 
Treadled feeders have many benefits, but they also have problems. Chickens must be trained to utilize treadle feeders, which are pricier. 
Larger or more powerful hens may monopolize the feeder, denying smaller or timid birds food. 
Treadle feeders effectively deter wild birds from chicken feed. They simplify feeding, encourage self-feeding, and keep flocks healthy. 
Consider using treadle chicken feeders for more efficient and controlled feeding.
Last update on 2023-12-07 / Affiliate links / Images from Amazon Product Advertising API
Grandpa's Feeders Automatic Chicken Feeder is the easiest and most effective chicken feeder. 
This feeder's high-quality galvanized steel construction ensures durability and lifespan in harsh outdoor environments.  
Grandpa's Feeders make flock feeding more accessible than ever. It gives your backyard chickens food on demand, supporting optimal laying and happy chicks. 
This treadle chicken feeder feeds a few chickens simultaneously, ensuring everyone gets enough.  
The Standard Automatic Feeder can feed 6 hens for 10 days with its 20-lb (9kg) feed capacity, making it ideal for smaller flocks up to 12. 
This feeder's built-in anti-flick grill reduces food waste and poultry food bills while saving time and labor.  
Grandpa's Treadle Feeder is the original automatic chicken feeder, trusted globally for over 20 years. 
The current model has side guards and a size increase setup to make feeding chickens of all sizes easy, even those with large combs.  
Grandpa's Feeders Automatic chicken feeders save money and time while feeding a happy flock. Experience a reliable automatic feeding solution!
Pros: 
Galvanized steel is outdoor-resistant and long-lasting.
The feeder provides feeds to chickens on demand.
Large feed capacity
Affordable cost with these features.
Built-in anti-flick grill to reduce feed waste.
Grandpa's Feeders have been trusted internationally for over 20 years.
Cons:  
Higher starting costs than standard feeders.
Limited size for 12 hens. 
Manual setup and maintenance are required.
The feeder lid is waterproof, but not the body.
Last update on 2023-12-07 / Affiliate links / Images from Amazon Product Advertising API
The RentACoop Automatic Metal Treadle Feeder is a great long-term flock feeder. This rainproof outdoor automatic feeder can use chicks, bantams, fowl, and pheasants. 
It can feed 12 hens for 10 days with its 40lb capacity, decreasing refills. 
Maintenance is easy with this feeder's 40lb capacity for pellets, crumbles, or scratch grains. 
The lower-lid locks protect chicken feed from raccoons, wild birds, squirrels, mice, and other pests. This feeder is also available in 15 and 25 lb capacities.
The ingenious design keeps dirt and debris out and feeds in, eliminating wasted feed and water pooling. 
This all-season waterproof feeder can be placed anywhere. It's built from galvanized metal sheets and stainless-steel screws to last. 
For additional ease, the RentACoop Automatic Metal Treadle Feeder has training screws to help acquaint your flock with the feeder, lock lids to keep pests out, and an optional rain cover to keep feed dry. 
Pros:
Large 40lb capacity, feeds 12 hens for up to 10 days.
The pest-proof design keeps out unwanted animals.
Weatherproof for outdoor use, built to last.
Durable galvanized metal construction.
Convenient features, including training bolts and optional rain cover.
Cons:
Higher cost compared to traditional feeders.
Heavy and challenging to move when filled.
Assembly, required, may be time-consuming.
Limited compatibility with specific birds and animals.
Additional costs for 15lb extensions if needed.
Last update on 2023-12-07 / Affiliate links / Images from Amazon Product Advertising API
The Rural365 Chicken Treadle Feeder is ideal for feeding and pest-proofing. This automatic chicken feeder promotes natural feeding while protecting food from pests and the environment. 
Its weight-activated levered platform lets chickens, ducks, and other medium-sized flocks feed as they stand above the lever. Adjusting pressure minimums for different chicken breeds is simple. 
This feeder holds 17.6 lb of chicken feed, which runs for 6 to 12 birds for 10 days, decreasing the need for refilling. The spill-edge design reduces waste and mess. 
This feeder is durable with 1 mm galvanized plates and molded plastic pieces for weather and UV protection. Chickens can't roost on the slanted cover, keeping the feeding area clean. 
Assembly is simple, and the locking lid prevents raccoons and other animals from eating from the top. 
Improve egg production and make feeding your chickens easy with the Rural365 Chicken Treadle Feeder.
Pros:
Automated feeding system for chickens, rabbits, ducks, and medium-sized pets.
Pest-proof design with weight-activated access.
Weather-resistant construction for durability.
Easy refill top for convenient replenishing.
Cons:
It is not suitable for small animals or chicks.
Primarily designed for chickens.
Some noise from the treadle platform.
Assembly is required before use.
Photocell Activated Automatic Chicken Feeders: Feed Your Chickens at Dawn and Dusk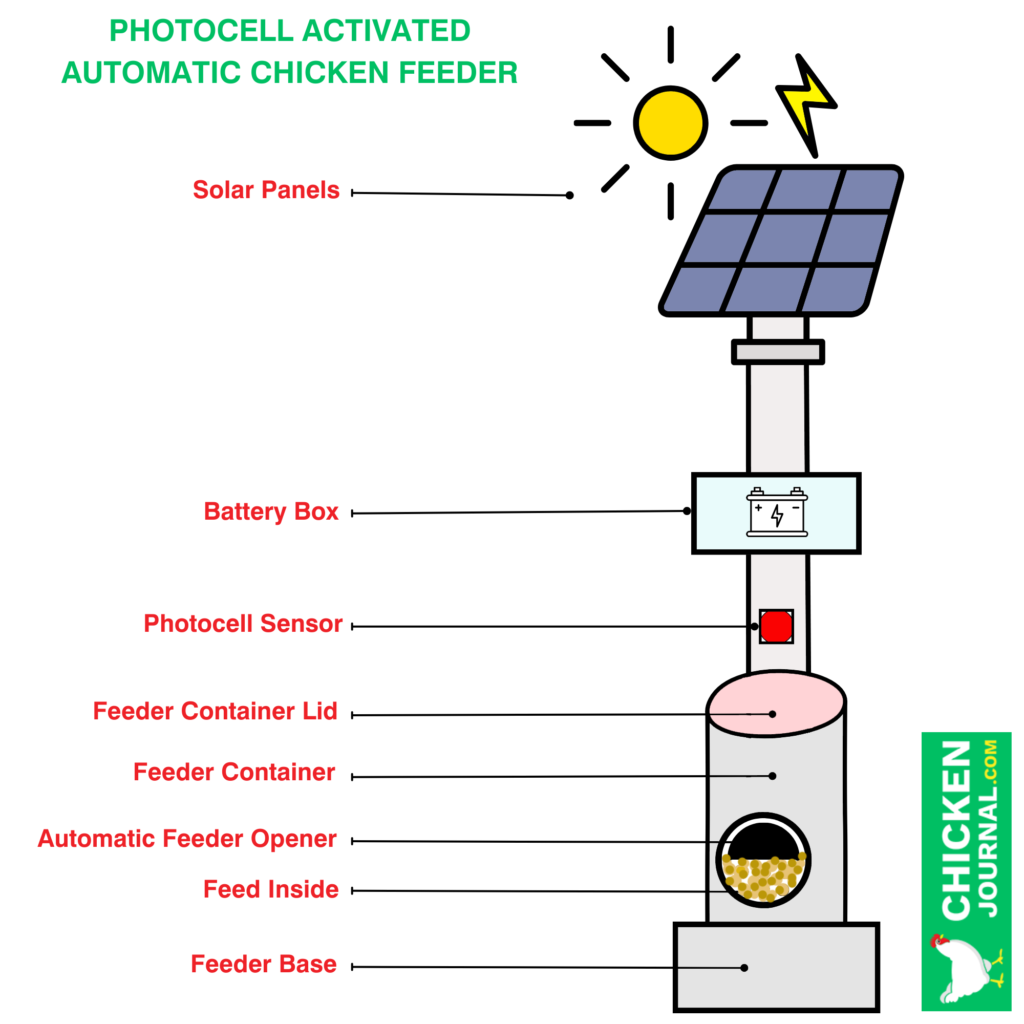 Photocell-activated feeders, commonly called solar automatic chicken feeders, revolutionize poultry husbandry. These revolutionary feeders let us feed our chickens at dawn and dusk without human interference. 
The idea behind photocell feeders is simple but effective. These feeders use photocell sensors that measure light. The sensor activates the feeder to feed the chickens in the morning when the sun rises. 
As the light fades in the evening, the photocell sensor triggers the feeder to release more feed, ensuring the chickens are well-fed before bed. 
Photocell-activated feeders replicate chicken feeding behaviors, which is a significant benefit. 
These feeders let chickens eat at dawn and dusk, as nature intended. This can make chickens happier and healthier. 
These feeders also avoid overfeeding and underfeeding by providing a constant feeding schedule. 
This can improve chicken health and productivity.  Like any technology, photocell-activated feeders have downsides. 
Due to their light dependence, they are pricier than typical feeders and may not be suited for climates with frequent power outages or extreme weather situations. 
Putting a solar panel and sensor will work more efficiently and powerfully.
Smart Feeder: Chickens Feeder With Wi-Fi and Timer
Smart automated chicken feeders will transform poultry farming! Give up manual feeding for efficiency and convenience. Smart chicken feeders with Wi-Fi and timers are sweeping the market. 
The smart feeder simplifies chicken feeding for farmers. Wi-Fi lets you monitor and control the feeder from your phone or computer. 
Stop wasting time and energy going to the chicken coop. Adjust the feeding schedule and portion size with a few taps on your tablet. 
The smart feeder's timer feeds your chickens regularly, even when you're away. This prevents underfeeding and overfeeding, supports healthy growth, and reduces food waste. 
Modifying the feeding schedule will ensure your flock gets the proper food at the right time. 
The smart feeder is durable, safe, and convenient. High-quality materials can survive harsh weather and curious birds' pecking. A secure locking mechanism prevents unauthorized feed access. 
Buying a smart or automatic chicken feeder will boost your poultry farming efficiency. 
It will feed and nourish your chickens while saving you time. So why delay? Enjoy the future of poultry farming with automatic chicken feeders and grow your business.
Outdoor Feeders: Weatherproof Solutions For Your Outdoor Coops
Outdoor automatic chicken coop feeders must be waterproof. They enhance your poultry farming experience. 
These feeders keep your birds fed without manual feeding. Their waterproof design keeps feed dry and safe from rain and snow. 
Automatic outdoor chicken feeders can control food dispensing, a significant benefit. This avoids waste and ensures your chickens have enough feed. 
These feeders are easy to clean and maintain, making them ideal for busy poultry breeders. 
Weatherproof automatic chicken feeders for your outside coop save time and increase flock health. Chickens are happier, healthier, and more productive with constant dry feed. 
These innovative feeders will revolutionize poultry farming and benefit your outdoor coop.
Indoor Feeders: Space-Saving Options For Your Indoor Setup
If your chicken coop inside is small, the appropriate feeding might make a significant difference. 
Automatic chicken feeders improve poultry production with ease of use and effectiveness. 
With these feeders, your chickens always have feed without constant surveillance. You can also use the best chicken coop cameras for security and surveillance. 
There are several space-saving options to keep an eye on. Start with a wall-mounted feeder. 
These are easy to mount on the wall, conserving floor space. Hanging feeders can be mounted on the ceiling or a solid beam. The feeder is off the ground, saving space. 
Select compact, lightweight options that will easily integrate into any indoor setting. 
Pick the best compact automatic feeder by considering the factors below.
Factors to Consider When Choosing an Automatic Chicken Feeder
The following are some common considerations before investing in an automatic chicken feeder.
1. Feeder capacity: The capacity of the feeder is one of the most important things to consider when selecting an automatic chicken feeder. You must ensure the feeder can hold sufficient feed for a long time for your chicken flock's health. This will depend on how many birds you have and how often you plan to fill the chicken feeder. 
2. Sturdiness of the chicken feeder: You should buy a feeder made of durable materials. Look for feeders made of solid materials like stainless galvanized steel or suitable plastic. This will ensure the feeder can withstand the weather and the chickens' scratching. 
3. It must be easy to clean: Keeping the chicken feeders clean for your chickens' health is essential. Choose a feeder that is simplest to open and clean. Features like hoppers that are easy to get to or trays that can be taken off can make cleaning much easier. 
4. Buy a pest-proof feeder: Automatic chicken feeders should be made so rats, mice, and wild birds can't eat the chicken feed. Find feeders with lids or caps that are tight and won't let predators in. 
5. Adjustable chicken feeders: Different flocks may need different types and sizes of feed. Look for feeders that let you change the plan or amount of food they give. This will give you more control over what and when your chickens eat. 
6. Weatherproof design: An excellent automatic chicken feeder should be able to handle all kinds of weather. Ensure the food stays dry and fresh by looking for waterproof feeders that can withstand UV light. 
When selecting an automatic chicken feeder, these things will help you get the right one for your flock. Getting a feeder with the right features will help your chicken farming run more smoothly and give your chickens a reliable and easy way to get food.
Tips for Maintaining and Cleaning Your Automatic Chicken Feeder 
1. Regular inspection: Check your automatic chicken feeder weekly to ensure it works properly. Look for any signs of damage or wear and tear. 
2. Clean the automatic feeder regularly: Remove any leftover feed or debris from the feeder's tray and hopper. Use a brush or cloth to wipe away any dirt or grime. This will prevent the buildup of bacteria and pests. 
3. Disassemble for a thorough clean: Take apart your automatic chicken feeder every few months for a more thorough clean. Wash each component with warm, soapy water and rinse thoroughly. Allow the parts to dry completely before reassembling. 
4. Lubricate moving parts: Apply a food-grade lubricant to the moving parts of your automatic chicken feeder to ensure smooth operation. This will prevent any sticking or jamming. This type of lubrication is mainly needed in treadle feeders.
5. Check the sensor and motor: Make sure the sensor and motor of your automatic chicken feeder are functioning correctly. Test the sensor by placing your hand before it and ensure the motor turns smoothly. 
6. Protect from harsh weather: If your automatic chicken feeder is kept outdoors, consider installing a protective cover to shield it from rain, snow, and extreme temperatures. This will prolong its lifespan. 
7. Keep pests away: Regularly clean the area around your automatic chicken feeder to keep rats and mice away. Consider using pest deterrents or traps if necessary. 
So, If you follow these easy steps, your automatic chicken feeder will stay clean, work well, and give your chickens a continuous flow of chicken feed.
The Benefits of Using an Automatic Chicken Feeder
Automatic chicken feeders can help poultry farmers manage their flocks in a new way. 
Here are seven key advantages of using an automatic chicken feeder: 
1. Time-Savers: Farmers can save valuable time by eliminating the need for manual feeding with an automatic chicken feeder. The feeders are designed to regularly dispense the right amount of food, ensuring the chickens are well-fed without constant supervision. 
2. Cost-Efficient: By accurately dispensing the required amount of feed, automatic chicken feeders help reduce wastage. This saves money on feed and minimizes the expenses associated with cleaning and maintaining traditional feeders. 
3. Consistent Nutrition: Automatic feeders allow farmers to control the quality and composition of the feed, ensuring that their chickens receive a balanced diet. This consistency in nutrition promotes healthier birds and can enhance productivity. 
4. Reduced Stress: Chickens are prone to forage for food, and automatic feeders simulate this behavior by dispensing feed regularly. This helps reduce stress in the flock, as they can engage in natural feeding behavior. 
5. Pest Control: Traditional feeders can attract pests, like rodents, birds, and insects, which can contaminate the feed and make the chickens sick. Automatic feeders reduce the exposure to such pests, keeping the feed clean and safe. 
6. Easy to clean: Many automatic chicken feeders are made easy to clean, making it easier to take care of and saving time and effort. This ensures hygienic feeding conditions for the chickens and helps prevent the spread of diseases. 
7. Flexibility:  Farmers can customize the feeding routine based on their flock's requirements because smart automatic feeders can be programmed to dispense feed according to specific schedules. This flexibility primarily benefits farmers with busy schedules or those managing large flocks
Conclusion
This article has provided a list of the best automatic chicken feeders.
Also, we have explained the various types of automatic poultry feeders in the market and new generation designs.
If you have a low budget, go with the gravity feeders. They are inexpensive, easy to use, weatherproof, and work semi-automated.
You need to fill them out once a week or in 15 days. Farmers prefer to use them mostly indoors, but you can use them outdoors.
Whereas the treadle feeders are a little complex to use. They are large and expensive.
But they are made of sturdy materials like galvanized steel and plastic. Treadle feeders are mainly used outdoors as they are weatherproof and automatic.
You can also DIY and build a photocell-activated or WiFi chicken feeder.
I hope you can now decide which type of automatic chicken feeder is best for your flock and comes under your budget.
Latest posts by Bijaya Kumar
(see all)