If you need a few heat lamps for your baby chicks, this guide will help you choose the best heat bulb brooder for your backyard farm. Baby chicks need initial brooding for their proper growth and development.
Using a heat lamp for your flocks has lots of health benefits and reduces early chick mortality. This article comprises all about poultry heat lamps, their advantages, use, and buying guide.
Last update on 2023-12-07 / Affiliate links / Images from Amazon Product Advertising API
What are Heat Lamps for Chicks?
Heat lamps for chicks are poultry equipment containing a bulb with clamps specially made for giving heat to baby chicks. 
Most heat lamp kit contains 150 or 250 watt standard or infrared bulbs. It is used for birds like chicken chicks, ducklings, macaws, guinea fowls, turkeys, and various types of birds.
Mostly heat lamps are used for brooding baby chicks, but it is also helpful for providing warm temperatures in winter. Here is our guide on keeping chicken coops warm in winter.
Heat lamps are a historical brooder, but it is still a piece of famous and effective heating equipment and is used by 80-90% of poultry raisers. 
There are also different types of chicken coop heaters that you can use for your flocks like heating perch, heating plates, heating pads, and portable heaters. These heating equipments are alternatives to heat lamps.
Advantages of Using Heat Lamps for Baby Chicks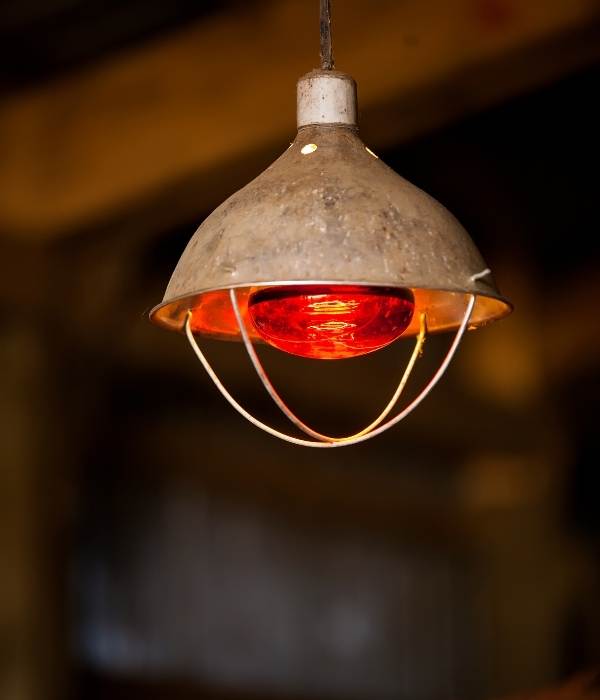 Here are some fantastic benefits of using heat lamps for chicks:
Very Easy to Use
Heat lamps are very easy to use. You have to hang the clamp, put a 150-250 watt bulb and switch it on. For temperature checking, you can use a brooder and incubator thermometer.
Last update on 2023-12-07 / Affiliate links / Images from Amazon Product Advertising API
You don't need any technician for it. It will take a few minutes to set up a new heat lamp.
Easy to Get
We love those gadgets and equipment which are easy to get and serviceable. Heat lamps are readily available in most hardware shops and pet equipment shops.
Most of the parts are easily changeable and available in all stores so, if any part is missing or broken, you can replace it easily.
Continuous Heat Supply
The heat lamp provides constant heat for a particular area. If you compare a heat lamp with other chicken coop heaters, it provides very high heat. However, it has a small range, but it does its job perfectly. 
150 watt heat lamp with an infrared bulb can quickly provide heat to 50-100 baby chicks. So, if you have more chicks, you divide them into batches and buy a few extra heat lamps.
Cost-Efficient
If you are a low-cost chick-brooding solution, then a heat lamp is best for you. If you live in the US, you can easily set up a heat lamp for about $20-30.
Whereas heating pads and plates for chicks cost around $50-60, and also they cover small areas.
Best For Brooding
During brooding, baby chicks divide into batches is most important as it avoids early death due to overcrowding. In those cases, heat lamps work best.
Hang and fit a heat lamp brooder for every group of 80-100 chicks. It's also easy to manage them when you divide them into small groups.
Top 7 Best Heat Lamps for Chicks Brooding and Temperature Control
Here is the list of the few best heat lamps bulbs and kits for baby chicks:
Last update on 2023-12-07 / Affiliate links / Images from Amazon Product Advertising API
Heat lamps work best for reptiles, amphibians, birds, and more. Zarco provides one of the best-infrared bulbs for heat lamps. You can use it for brooding 10-50 chicks. It varies according to weather conditions.
It is a 150W black heat lamp ceramic bulb that uses about 110V. This is a ceramic heating lamp with no light. The company is also providing a digital thermometer for controlling temperature manually. 
It would help if you bought a brooder lamp reflector for using this heat lamp. Just remember to buy a screw base connector so that this bulb supports your setup.
Pros
Easy to use.
Long-lasting.
Free thermometer.
Comfortable and Non-disturbing.
Cons 
Only for a small number of flocks.
No light emission.
Last update on 2023-12-07 / Affiliate links / Images from Amazon Product Advertising API
The Stered Lighting brand BR40 in an infrared lamplight. It is best for all types of poultry birds. For freeze-cold areas, you need a few extra heat bulbs.
A 250W infrared bulb heat lamp set up for chicks is best for excessive cold areas. This gives more heat as compared to 150W bulbs.
Also, red light is suitable for a chick's growth and provides a cozy feeling inside the brooder guard. It has a screw base, so check your bulb socket (adapter) should be compatible with it.
The bulb has a 2000 hrs life, and one bulb is best for 100-120 chicks.
Pros
Durable.
Screw the base socket.
Infrared light.
Provides more heat.
Cons
For no continuous use.
You need to switch it off in 20-30 min to avoid burning.
Need a constant power supply.
Needs proper handling.
Last update on 2023-12-07 / Affiliate links / Images from Amazon Product Advertising API
It is another 150W ceramic infrared heat lamp. This consumes about 110-120V AC current. As it is a non-light-emitting heat lamp bulb, it does not disturb your baby chick's sleeping.
This ceramic heat bulb increases the ambient air temperature and helps in the growth of the flocks. It provides warm weather the whole day without disturbing your chicks because it has no glaring light.
Pros
Non-disturbing light.
Provides constant heat.
Has a 10000+ hrs long life.
Best for brooding chicks.
Waterproof.
Sturdy.
Cons
It needs a suitable power supply.
Low heat than red bulbs.
Last update on 2023-12-07 / Affiliate links / Images from Amazon Product Advertising API
It is one of the best heat lamps with a bulb guard best for 250 Watt ceramic or red light infrared bulbs. You can also use standard transparent bulbs in this bulb guard, but that provides significantly less heat.
The reflector has about 10.5-inch diameter and is best for various types of reptiles and chicks. This bulb guard has a D-ring type hanger and a thick and flexible cord.
The company is providing an excellent thin shiny heat lamp that is good for brooding baby chicks. If you live in a place where you see multiple snowfalls, your flock will love this heat lamp.
Pros
A good light reflector.
Long 6 feet cord.
Easy to set up.
Hager included.
Cons
Reflector quality needs improvements.
The plug needs improvement.
Last update on 2023-12-07 / Affiliate links / Images from Amazon Product Advertising API
This is a combo reflector with a red infrared bulb for brooding chicks. It is a multi-purpose brooding light for chickens, pets, saunas, etc.
The company is claiming a 6000 hrs life which sounds good. It is best for brooding 50-100 chicks for a typical winter. In most cold areas, it may provide heat to up to only 40-50 baby chicks.
Pros
Sturdy product.
Easy to use.
Combo set.
Cons
The bulb's quality needs improvement.
Last update on 2023-12-07 / Affiliate links / Images from Amazon Product Advertising API
It is one of the best heat lamp flood lamp infrared bulbs by Philips. This renowned brand provides both 125W and 250W light bulbs.
You can use it with different clamp lamp lights with screw base sockets. These bulbs provide perfect warm temperatures for various works like sauna, wound healing, and brooding baby chicks.
Pros
Works perfectly.
Durable.
Best for brooding chicks.
Cons
A little bit more costly than other brands.
The screw base needs improvements. 
Last update on 2023-12-07 / Affiliate links / Images from Amazon Product Advertising API
It is a set of two clamp lamp lights that work best for brooding baby chicks. It is suitable for 150W infrared lamps.
This model also comprises a 6 ft. long cord with an 8.5 inch shiny aluminum reflector. It is best for 20-50 chicks. The capacity varies from country to country because of different temperature conditions.
A 10 inch hook clip is also provided with this heat lamp so that it does fall from your coop ceiling. The clip has a 360 degree adjustment, so wherever you want, you can fit comfortably.
Pros
Good quality.
Easy to use.
Value for money.
Cons
The reflector and socket fitting need improvement.
Disadvantages of Heat Lamps
As it is an ultimate guide on heat lamps, knowing their disadvantages is most important. Heat lamps may take fire if not used properly.
Most of the chicken farmers use wood shavings and rice hulls as chicken beddings. Little fire inside the chicken coop may burn the whole litter and may kill your chickens.
Also, heat lamps are very hot, which is very dangerous for kids. Keep your children's away from the brooding area so that it does not harm them.
Heat lamps do not have automatic temperature control. However, few heat lamp 
Buying Guide and FAQs on Heat Lamp for Chicks
Understanding Light Bulbs Heat Lamp Temperatures for Baby Chicks
Here is the chart for light bulb heat lamps temperatures:
1 week old chicks 32-30°C
2 week old chicks 29-30°C
3 week old chicks 26-29°C
4 week old chicks 24-26°C
5 week old clicks 21-23°C
6 week and more old chicks 21°C
How long do chick need a heat lamp?
Brooding baby chicks is essential because it promotes growth and development in their early stage of life. Also, initial brooding using heat lamps reduces the chick's mortality rate.
Most of the chicks need a heat lamp for about 1-4 weeks. Few bantams and small chicken breeds need an extra one-week brooding because they need a few more days to grow.
What type of heat lamp is best for chickens?
There are different types of heat lamps available in the market, like red light, white and black ceramic types.
All heat lamps are suitable. However, there are few common differences between ceramic and glass-made heat lamp bulbs.
Ceramic-type infrared bulbs are waterproof and sturdy. It has a long life as compared to red light infrared heat lamps.
These ceramic heat lamps do not disturb baby chicks because they do not produce light. It only delivers radiant heat 24X7.
On the other side, red bulb heat lamps also work best, but they are very sensitive and break on a slight jerk.
Also, it produces a large amount of red light, which may disturb your chicks, but it does not cause any issue.
In this new generation, people are using different types of heating equipment, but still, these ceramic and red light infrared lamps are used by 70% of chicken breeders.
When do you stop using heat lamps for chicks?
Stop using a heat lamp when your baby chicks become one month old. Usually, most of the chicks of different breeds do not need brooding after 4-5 weeks.
Every so often, you also have to consider the weather conditions of your state and country. If your chicks are going away from the brooder lamp, then you should understand the heat you are providing is more for them.
In that condition, switch off the heat lamp in the daytime and check by switching it ON at night. If chicks are still going away from the heat lamp bulb, then stop using the heat lamp.
What size heat lamp do you need for chicks?
Usually, a 250 watt heat lamp is sufficient for brooding 75-100 chicks. If you are living in very high-temperature areas, you may use it for 100-150 chicks. 
How high should a heat lamp be for chicks?
Generally, you can put a heat lamp above 1-1.5 feet (12-18 inches) height in winter and cold climate areas. You can place a heat lamp bulb above 2-2.5 feet (25-28 inches) in hot climate areas inside a brooding area.
How big of a wattage heat lamp bulb do you need for chicks?
Both 150W and 250W heat lamp bulbs are suitable for brooding baby chicks. Most of the time, its use varies from flock size and some time according to weather conditions.
If you have 10-30 baby chicks, then a 150W heat lamp bulb is recommended, but if you have more than that, using a 250W heat lamp bulb is best for your baby chicks.
Summary
Heat lamps are one of the oldest and successful brooders and easy to use. We still use heat lamps using infrared bulb in our backyard.
As we are living in a tropic climate area, a 250 watt bulb is enough for brooding about 100-120 chicks. In winters, you may need an extra bulb.
Remember to use a heat lamp properly according to given instructions. As the bulbs are breakable and sensitive, sometimes wrong handling may cause fire.
Always use a branded and best quality heat lamp for your chicks. So that you will get good fittings and work. 
I hope this guide helps you to know all about heat lamps for chicks. Which heat lamp are you using in the backyard?
Latest posts by Bijaya Kumar
(see all)