Do you want to know all about brooding chicken? It is a major thing to know if you are raising baby chicks.
The temperature control in the brooding process and other setup ensures the initial growth of the chickens. That's why you need to know all about brooding chicks.
This definitive guide on brooding chickens will include:
The meaning of brooding chickens.
Its significance in poultry farming.
Natural vs. Artificial Brooding.
Space requirements for brooding.
The method with information about various types of equipment used.
Temperature adjustments.
What is Brooding Chicken?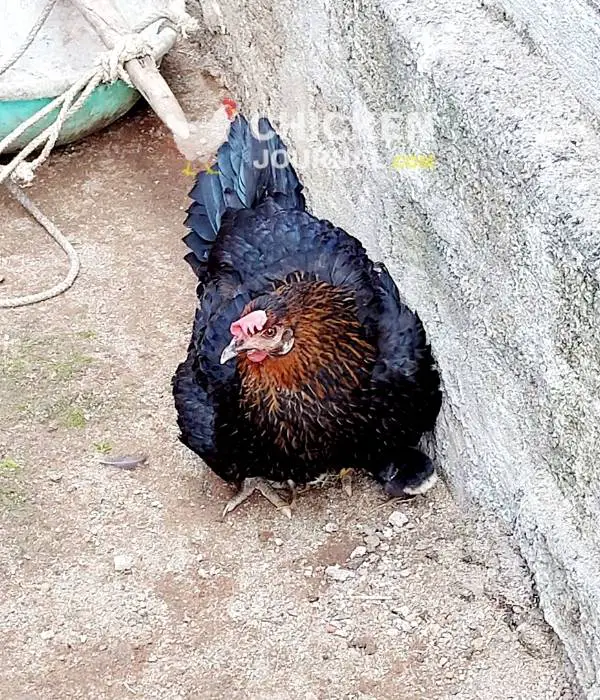 Brooding is the process of keeping baby chicks warm after they have hatched so that they can grow and survive. 
A mother hen typically keeps her chicks below and inside her wings to provide them with heat for survival and growth. This is mainly possible in backyard farming.
In commercial chicken farming, farmers buy baby chicks from hatcheries. So, the farmers must build a brooding room to warm the chicks. 
They maintain a warm environment inside a closed house, so the chicks will grow properly. Farmers usually use forced air heaters and infrared lamps to keep the heat up in the brooding area.
Importance of Brooding Chicken
The poultry industries use different types of heaters for brooding their chicks. Chicken brooding is done by various types of lamps, lights and forced air heaters, and professional equipment.
Chicken brooding is the most important part of the poultry business. Improper and inadequate brooding can cause early mortality, growth retardation, and disease in poultry flocks. Chickens that don't grow properly cause a direct loss to the farmers.
Baby chicks needed to be kept warm after they hatched. This initial heat provides them with cozy living and proper growth for survival.
Chicken brooding is critical for the first few weeks. The brooding period may be shorter or longer depending on the environmental temperatures and breed of the chicken. In the winter, chickens take longer to brood than they need in the summer.
For the complete development of baby chicks from inside and outside, brooding is helpful. Brooding chicks is not complicated, but doing it correctly is most significant.
Broody Hens (The Natural Chicken Brooding)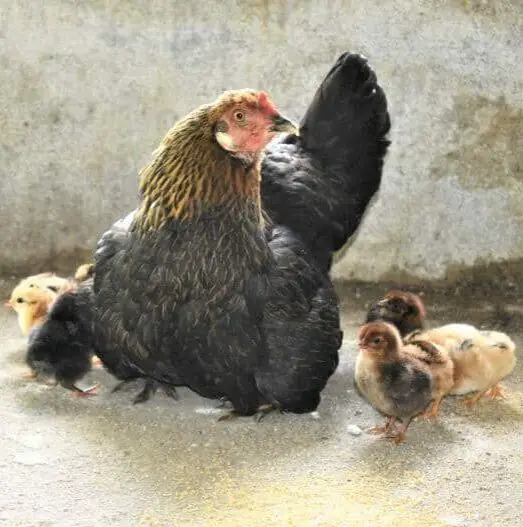 This naturally means god gifted. After hatching baby chicks, most of the hens develop broodiness. A broody hen forages with her chicks and periodically keeps them below her wings to provide a warm temperature.
When the broody hen keeps her chicks below feathers, it provides them with a cozy environment and heat. The hen teaches her chicks to catch insects and peck to feed during brooding.
Not all the hens go, broody. Chicken breeds like Ancona, Andalusian, Barred Rock, Croad Langshan, Barnevelder, Campine, Sebright, etc., rarely go broody. In that case, you must buy an incubator to hatch their eggs and heaters for brooding chickens.
Complete Process of Brooding Chickens (Using Heaters)
1. Brooding House Setup for Before Arriving of Baby Chicks
Before arriving at baby chicks, you must prepare your brooding house for chicks. The first step is choosing a good location for building a brooding coop.
a) Selecting Best Location for a Chicken Brooding House
The most important question when building a chicken brooding house is where to build it. You should keep the brooding house away from other chicken houses to keep your newly hatched chick safe from diseases.
A brooder house for chicks must be at least 100 to 200 meters from the main chicken farm. Baby chicks are very sensitive to foreign infections, so they need to be kept in a safe, fresh, and well-sterilized room. 
It is better to build a closed room for baby chicks. Try to add some best exhaust fans in your chicken coop for ventilation.
Closed rooms help you to provide constant heat inside the brooding coop and keep external infections away from them. Always use separate rubber shoes and gloves for handling baby chicks.
b) Preparation of Chicken Brooding House Before the Arrival of Baby Chicks
Before the arrival of the chicks, the chicken's brooding house needs to be prepared. Below are some quick tips to remember before the chicks arrive from the hatcheries:
Ensure your chicken brooding house is ready one week before the chicks come.
The brooder house needs to be cleaned before a week.
If there are old batch chicks poops in that brooding coop, you should remove and clean the litter.
Clean the floor and wall of the brooding house properly. Also, you should sterilize brooding equipment with a disinfection solution. 
A high concentration of formaldehyde gas is needed for better sterilization. You can find formaldehyde in your nearest chemical or veterinary medicine shop. 
During the use of formaldehyde, keep the room airtight for 24 to 48 hours, then allow the room to dry out completely. Also, turn on the ventilation fan to release the gas outside.
Use 35 ml of Formalin and 17.5 grams of potassium permanganate to disinfect a 3-meter cube area inside the brooding coop.
2. Brooder Guard Setup Inside Brooding Coop
The brooder guard is a small temporary wall that keeps baby chicks in a small area. It helps farmers to provide them with heat in a specific place.
It helps in preventing the chilling and pilling of newly hatched chicks. Always ensure that your brooder guard is sturdy, properly sterilized, and built with good-quality plastic.
It keeps your chicks in a particular area to stay near the heat source. The height of a brooder guard must be between 16 and 18 inches, or else the chicks will jump out. It will also save them from the wind and cold.
Brooding is done inside the brooder guard. Until the chicks' feathers grew enough, they were kept inside this brooder guard, and the heat was given using various equipment.
Use paper above the floor bedding for the first three days and spread chicken pre-starter feed above it. After three days, remove the paper from the floor bedding and use the deep litter system.
You can use paddy husk, wood shavings, ground maize cob, chopped straw, sawdust, and groundnut shell for a deep litter system. Keep the height of the bedding for about 6 to 9 cm in the winter and 3 to 4 cm in the summer.
3. Receiving Baby Chicks
When the baby chicks reach your chicken farm, you need to ready a few things:
Turning on the heater or lamps before the baby chicks arrive at your chicken farm is a good idea. This makes the environment warm.
Check the condition of the baby chicks to see whether they are healthy.
After checking, keep them inside your brooder guard as soon as possible.
Use at least one 12 kg capacity feeder and one 3 liter capacity drinker for every 100 chicks inside the brooding area or brooder guard.
You can add a few electrolyte and probiotics if chicks are looking dehydrated. 
4. Different Types of Heaters For Brooding Chicken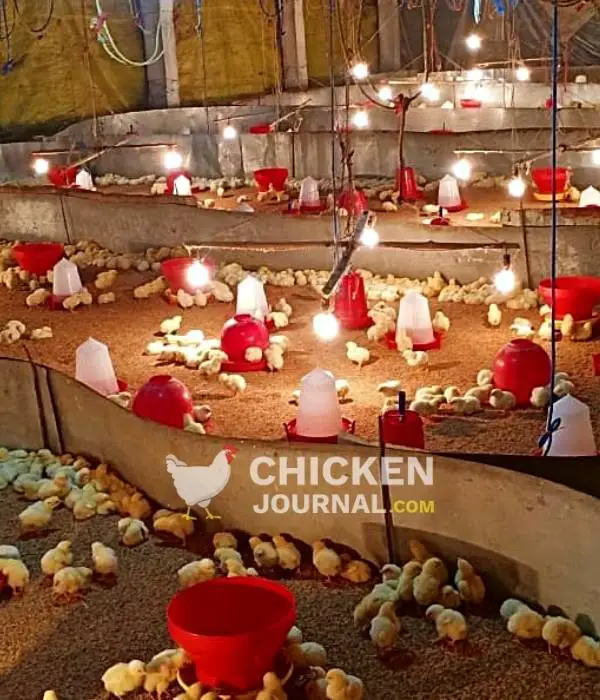 Today, many types of chicken brooding equipment are available in the market. Some are traditional, and some are advanced tools.
Light or bulb (Used for brooding in large and small-scale chicken farming)
Gas brooder (Used for brooding in small-scale chicken farming where there is no electricity)
Chicks heating plate (Used for brooding in small-scale chicken farming)
Forced air heater (Mostly used for brooding in large-scale chicken farming)
a) Brooding Chickens With Lights and Bulbs
Lights and bulbs are among the best and most traditional methods for brooding chickens. These are still used in both small and large-scale chicken farming. 
In this method, a light is attached to a reflector. Most brooder lamps contain steel reflectors. 
It reflects high heat from its bulb, which is attached to the center, and the reflector reflects heat to the chick's body. Most farmers use infrared lights for better heat emission.
Woods Clamp Lamp Light with Aluminum Reflector, 150W, UL Listed, 6- Foot Cord
Last update on 2023-05-29 / Affiliate links / Images from Amazon Product Advertising API
You need to attach the brooding bulb above and center of the brooder so that it will reflect its light on chicks. The infrared bulbs come in different power levels, like 150 watts, 250 watts, or more.
TheraBulb NIR-A Near Infrared Bulb – 300 Watt – 120 Volt
Last update on 2023-05-29 / Affiliate links / Images from Amazon Product Advertising API
The best bulb in a brooding lamp is an infrared lamp because it provides a higher temperature than normal bulbs. They are red in color.
b) Gas Brooders for Chicken Brooding
The second most useful brooding equipment is a gas brooder. It is highly effective in areas with insufficient electricity or where power routinely cuts out.
The gas supply is connected to the burner through a pipe. The burner has a reflector attached to it to reflect the heat. 
Gas-powered brooders are the best backup for areas with frequent power cuts. Gas brooders are no more used in commercial farming.
Alke Poultry Gas Brooders for Livestock
Alke Poultry Gas Brooders for Livestock7
standard equipped with Stainless steel dust filter and...
Wide operating range in gas pressure and capacity
stainless steel air filter safety device & thermocouple
with thermostat & integrated sensor
Last update on 2023-05-29 / Affiliate links / Images from Amazon Product Advertising API
If you live in a place without electricity or face multiple power cuts, you can use a gas brooder.
If you only use electricity in rural areas, lack of heat causes all the chicks to move closer to each other, which results in overcrowding in a particular area inside the brooder guard. This may lead to mortality in chicks.
The gas brooder provides a constant heat supply to the chicks without any risk of power failure. The gas brooder needs an LPG gas cylinder for gas supply.
c) Heating Plate for Brooding Chickens
Brooding chickens with a heating plate is one of the most popular types of equipment. You can use it for your baby chicks, but this is used in portable and small backyard coops. 
It is available for a maximum of 70-100 baby chicks. The heating plate is best for brooding small chickens for 1-2 weeks.
It is effortless to use. Just connect the heating plate to the power source and switch it on. The heating plate becomes hot in a few minutes. Chicks will go below the heating plate and get the required heat. 
When they feel hot, they will come out from the plate. When the heating plate is warm enough, the small baby chick gets out of the plate for feeding.
The heating plate keeps them warm when they live in contact with the bottom plate. Poultry farmers usually use heating plates when they have a few chicks.
There are different sizes of heating plates available in the market. You can also adjust the height of the heating plate depending on your chick's size.
Brinsea Products Ecoglow 20 Safety 600 Brooder for Chicks Or Ducklings, Yellow/Black
Last update on 2023-05-29 / Affiliate links / Images from Amazon Product Advertising API
d) Forced Air Heaters For Brooding Large-Scale Chickens
The forced air heater is best to use if you are raising many chickens. Forced-air heaters can easily provide enough heat inside poultry sheds up to 1000-5000 square feet.
It comes with calculated values in British thermal units. A blower with a power of around 50,000 BTU's is enough to provide heat for 1200–1500 chicks. 
It is available in both electricity and kerosene-powered models. You have the option of choosing which one you prefer.
Portable Electric Space Heater, 1500W/750W Ceramic Heater with Thermostat
Last update on 2023-05-29 / Affiliate links / Images from Amazon Product Advertising API
5. Maintaining Correct Temperature Inside the Brooding Space
For the first 24 hours, keep the temperature at 95 °F (35 °C) at the edge of the brooder above 2-3 inches. 
Turn the brooder's temperature down by 5 °F (2.8 °C) every week until it reaches 70 °F. The constant flow of heat is most important. Improper temperature controls cause weak growth and mortality in chicks.
Digital Reptile Thermometer and Humidity Gauge Remote Probes
Last update on 2023-05-29 / Affiliate links / Images from Amazon Product Advertising API
Keep monitoring your baby chicks, and how they are feeling. They will stay away from the heater if they get enough heat. 
If heat is not enough, they will come closer. In this type of situation, you need to add an extra heater.
6. Releasing Chickens After Brooding
It is a common question when to stop brooding chicken. Well, the answer is easy.
The different chicken breed needs different periods of brooding. Fast-growing chickens need less brooding as compared to slow growing.
After a few days, you will see your chicks start jumping out from the brooder guard. Their feathers were now grown, and they could fly with small jumps.
You can move them to a bigger coop or remove the brooder guard.
Conclusion
Brooding chickens in a proper method is most important. This has a vital role in chicken growth and productivity.
Naturally, a broody hen sits on her eggs and hatches them. Subsequently, she takes care of the chicks and teaches them to forage, catch bugs, and survive external predators.
But when it comes to commercial chicken farming, there is no hen. Farmers buy chicks from the hatcheries. So, they must provide artificial brooding to grow the baby chicks into adult chickens.
We have explained all about brooding chicks, the correct method, equipment, and temperature controls. I hope this guide helped you to understand all about brooding chickens.