This article guide explains chicken coop ventilation in detail. It explains how you can ensure ventilation in the chicken coop, it gives you ideas and designs that you can use. Let's dive into it.
What is Chicken Coop Ventilation?
Chicken coop ventilations are holes in the walls of the chickens' coops that are either covered in hardware cloth or welded mesh (chicken wire). They let fresh air into the bottom of the coop while the warm stale is let out at the very top of the hen's house. 
It offers security by keeping snakes and vermin out of the coop. Ventilation in a chicken coop is of two groups: the small vents or pairs of large vents. 
Ventilations are put so that they face away from any prevailing weather to ensure that the air moves freely through the coop, which minimizes drought.
The two types of ventilation for chicken coops:
Passive ventilation: This type allows air to naturally flow through the coop without any outside assistance though the wind can drive roof-mounted units.
Active or forced air ventilation: This involves using artificial means such as electricity to power the fans, allowing air to flow into the coop. It is expensive because of using electricity. However, there are solar-powered fans in the market.
Importance of Ventilation in Chicken Coop
Below are some of the benefits of ventilating your chicken coop:
1. Eliminates Harmful Ammonia Fumes
Chicken dropping contains a great deal of ammonia released into the coop. Ammonia fumes harm your flock because they can lead to irritated eyes, poor overall health, sinuses, respiratory distress, and even death.
High-placed ventilation above the level of the chicken ensures that the ammonia fumes are not trapped inside and they escape. The best way to determine whether your chicken coop eliminates ammonia fumes is to smell for ammonia.
If you detect the smell of ammonia near the coop floor, similar to the chickens' height, you must increase the airflow.
Also read: Best odor eliminator for chicken coop
2. Removes Moisture From the Coop
Chickens generate lots of water vapor through droppings and breathing because they don't sweat. The water vapor causes the coop to be humid, and high humidity increases the chances of chickens contracting respiratory illness and frostbite. 
Proper ventilation removes humidity and dampness from the coop. This ensures the chicken will withstand cold temperatures. Frostbite occurs when there are sub-freezing temperatures and moisture. 
It occurs when moisture settles on the wattles, toes, and combs, but keeping the coop ventilated and dry will solve moisture problems.
Also read: Best chicken coop beddings
3. Provides Oxygen-Rich Fresh Air
The high respiratory rate of chickens makes them deplete oxygen and produce large amounts of carbon dioxide. Ventilation in the chicken coop ensures that the chicken gets oxygen, and the carbon dioxide air is replaced by fresh oxygen-rich air.
4. Reduces Airborne Diseases and Microorganisms
High respiratory in chickens makes them susceptible to airborne diseases. Airborne disease organisms build up fast in stagnant air inside the chicken coop, which can infect the entire coop. 
Ventilation in the chicken coop minimizes airborne organisms by allowing fresh air into the coop.
5. Eliminates Respiratory Irritating Dust
Chickens produce lots of dust, and this causes the confined space to be filled with dust particles. 
Chickens have a high respiratory rate and sensitive respiratory systems. For this reason, dust particles need to be removed from the coop to keep the flock healthy.
6. Keeps Your Chicken Coop Cool
Chickens release their heat by breathing which constantly heats the coop. Chickens can handle cold weather, and they do best at low temperatures.
They suffer at high temperatures, which explains why chicken coop ventilation is a must, especially during the warm summer weather.
6. Chicken Coop Ventilation Vs. Drafts
The chicken coop ventilation allows outside air into the space removing stale air. Drafts are defined as currents of air that are drawn into the room. 
The air that flows into the coop using ventilation is required, while drafts don't enter through windows. They discover even the most minor cracks and enter through them uninvited. 
Top 5 Best Chicken Coop Ventilation Fans
Here are some amazing chicken coop ventilation fans that will help you to keep your chicken coop cool, fresh, and ventilated:
Last update on 2023-09-24 / Affiliate links / Images from Amazon Product Advertising API
The iPower 12 Inch shutter fan has numerous applications, and it can be used to replace your ac unit or even cool your garage, chicken coop, or attic. 
It features an automatic gravity shutter that opens and closes with the fan's operation. It's easy to install and can be added to an opening in the wall. 
This 65-watt industrial-grade shutter fan will help you solve all your cooling and ventilation needs. The iPower shutter exhaust fan is made with corrosion-resistant aluminum, giving it longevity and preventing rusting of its components.
It has a rotating speed of 1620 RPM, a volume of 940 CFM, a wind speed of 10.5m/s and 60 watts. Also, it runs on a voltage of 115V/60Hz.
Pros
Easy to install.
It is quiet.
It brings in lots of air.
Cons
Sharp edges are a safety risk.
Last update on 2023-09-24 / Affiliate links / Images from Amazon Product Advertising API
This 14-inch industrial ventilation fan is corrosion-resistant. It comes with an enclosed motor, is thermally protected, and is permanently lubricated, which helps with easy maintenance. 
It is widely used in the home attic, welding rooms, chicken coop, and greenhouses. The SAILFLO 14-inch exhaust fan comes with a power cord, and a wire connector, and it can be mounted on a window opening or in the wall. 
The multiple-speed fan controller has three variable HIGH MED LOW speed settings and is adjusted depending on your needs. 
It's strong enough to blow open the self-closing shutters and protects them from rain and other substances when not in use. This exhaust fan comes with a 1-year warranty. 
It has a rotating speed of 1570 RPM, an air volume of 1341 CFM, 46 watts and a 110 Volt/60Hz voltage.
Pros
Easy to install and maintain.
Moves a lot of air.
Quiet.
Cons
Plastic quality needs improvement.
Last update on 2023-09-24 / Affiliate links / Images from Amazon Product Advertising API
This 10 inch variable speed shutter chicken coop exhaust fan has automatic shutters. It is corrosion-resistant with OSHA compliant wire guards and a permanently lubricated motor. 
It features speed controllable, a permanently lubricated motor, and a galvanized steel frame with aluminum blades and shutters. Some of its specs are 115 Volts, 65 Watts, 0.6 Amp, 1600 RPM, and 820 CFM. 
It has a one-year warranty and it can be mounted on walls. This 10 inch comes with variable speeds and thermal control features. 
The Iliving Shutter Exhaust Fan removes excess heat and unpleasant moisture from warehouses, chicken coops, and greenhouses.
Pros
Well made.
Easy to install.
Worth the price.
Cons
Directions for wiring are worthless.
Last update on 2023-09-24 / Affiliate links / Images from Amazon Product Advertising API
The 6-inch inline duct fan specifications are a diameter of 6 inches, a speed of 2960 RPM, airflow 240 CFM, power 37W, and the voltage is 110/120V. 
It has upgraded advantages such as superior balanced blades for long service life and quiet operation. The motor features are permanently lubricated, which makes it require no maintenance and is quiet. 
It has numerous applications, from boosting the airflow from HVAC units to ventilating stale air in basements and attics.
Pros
Low noise level
Easy to install
It provides lots of air
Cons
Last update on 2023-09-24 / Affiliate links / Images from Amazon Product Advertising API
The AC Infinity AIRLIFT T10 is a high-airflow exhaust fan designed to ventilate out odor, heat, moisture, and dust from spaces. This features a programmable controller with a corded probe that can adjust the fan's speed in response to humidity and temperature. 
It has an innovative EC motor with PWM control, maximizing airflow while significantly reducing energy flow and noise levels. 
The steel shutters, aluminum blades, and IP-44 are highly resistant to dust and liquid. Some of its specifications include airflow 631 CFM, noise 67 Dba, and dual ball bearings.
Pros
Easy to install
High performer
Easy to program
Very affordable
Low noise
Cons
The shutter gaps may allow bugs to enter the fan
Best 7 Chicken Coop Ventilation Ideas and Designs
Here are some of the best chicken coop ventilation ideas and designs you can DIY and ensure ventilation in the chicken coop.
1. Large Size Mesh Netting Door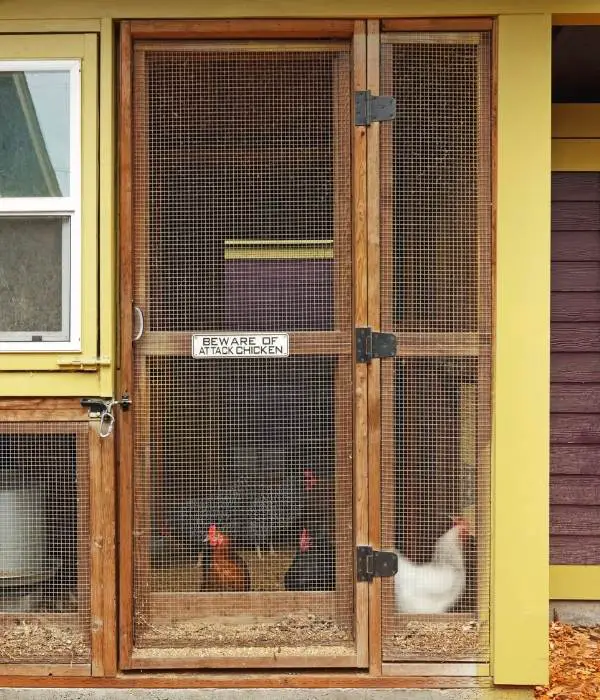 This chicken coop ventilation idea and design involves the usage of a large-sized mesh netting door.
It's great because it will allow moist and stale air out of the coop, whereas the oxygen-rich air will flow into the coop using the large-size meshes on the lower level of the door. 
It's a great way to provide maximum coop ventilation and secure enough to keep your chicken from birds of prey and other animals.
2. Rectangular Shed Windows For Ventilation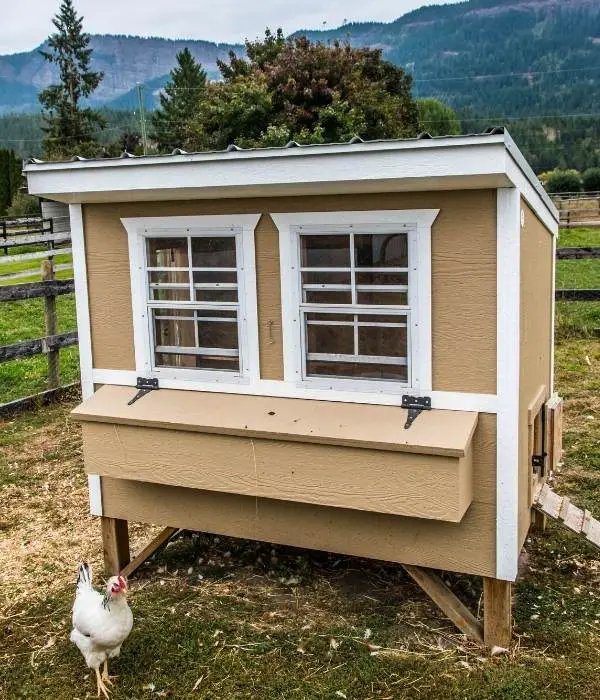 These provide ventilation in the chicken coop by opening to the outside. The shed is closed, and it will require ventilation. 
The rectangular shed windows are large and, when opened, will allow the free air flow into the shed with so much ease.
3. Skylight on the Top Roof or Side Window
On top of this roof is a skylight window that can be opened, allowing stale air outside while oxygen-rich air through the side way vents. 
The inside shed has a side window, ensuring that the small shed remains ventilated when the chicken is inside.
4. Adjustable Roof on Chicken Coop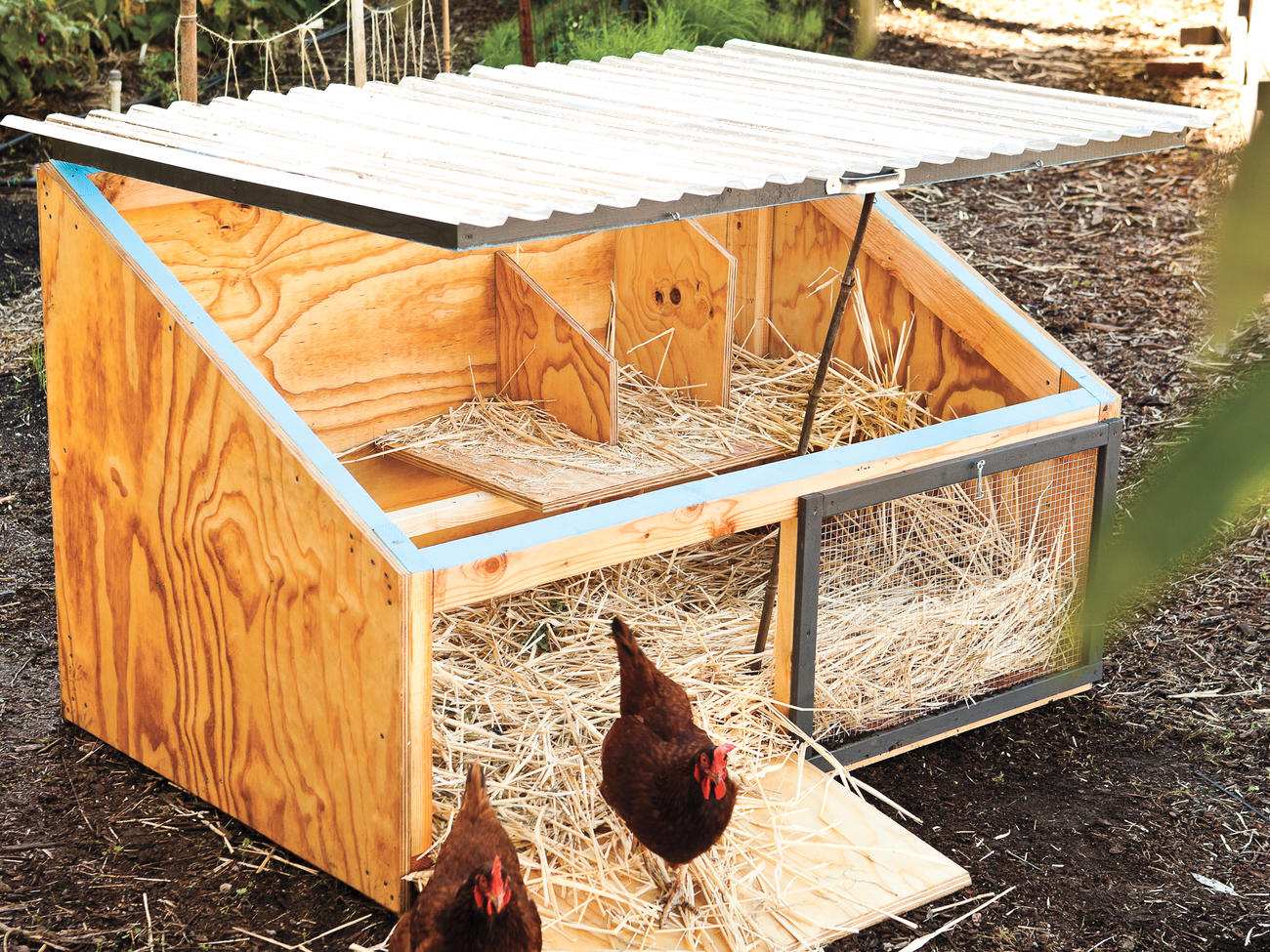 Just like its name suggests, this roof is adjustable. It opens to the outside and you need a support stick to determine the angle at which you will raise the roof. You can even have it wide open and let the coop dry.
5. Triangular Ventilation on Both Front and Back
This chicken coop is triangular, and so is its ventilation that is at the front and the back. They have meshed, and their height is from the middle of the coop to the roof's highest point.
6. Extra Holes for Chicken Coop Ventilation
These are extra holes drilled in the chicken coop to ensure increased ventilation. 
You can create as many holes as you like so that your chicken can get all the air they want. It also gives the chicken coop a great deal of appearance and design.
7. Using an Exhaust Fan on the Chicken Coop Wall
This ventilation idea and design involves mounting an exhaust fan on the chicken wall coop. It is installed on the window to draw the moist and stale air out while it easily allowing the free flow of air into the coop. 
It is an ingenious way of increasing ventilation in the coop if you have concerns about installing chicken coop ventilation. 
A single fan can do the job. It must be well-positioned and installed to bring in air from the outside.
FAQs on Chicken Coop Ventilation
Do you need chicken coop ventilation in winter?
Yes. Chicken coop ventilation in winter is important because it helps to remove odor and moisture build-up. These are hard to rectify, especially during winter. The ridge vents in the chicken coop must remain open all year.
Does your chicken coop need an exhaust fan in summer?
Yes. During the summer, temperatures increase, so your chicken needs to cool off. The heated summer is a recipe for heatstroke, and to ensure it doesn't happen, you need to ventilate your chicken coop as much as possible. This may include installing an exhaust fan to help your chicken cool off.
Can adding more chicken coop vents be an alternative to a ventilation fan?
Yes. So long as the vents allow unrestricted airflow into the coop, they can be an alternative to ventilation fans that are costly to purchase and maintain.
What are the benefits of cross-ventilation in chicken coop?
Cross ventilation ensures sufficient flow of air because an opening, which can be a door or window, allows stale air to go out through it. 
While fresh air gets into the coop using another opening. Stale air and fresh air don't have to mix using cross ventilation in a chicken coop.
What is the best direction for chicken coop airflow?
Your chicken coop ventilation air system needs to be put in a position facing the origin of the fresh air. Chickens sleep while facing the direction of the wind and weather. Thus, your ventilation should follow that direction. 
However, remember to build your chicken coop in the east to west direction because it is the best direction of wind flow in most countries. Also, it is the appropriate direction for morning and evening sunlight.
Summary
I hope this guide has shed light on everything you need to know about ventilation in the chicken coop. If you use this guide to the latter, you are sure your chicken coop will be adequately ventilated, and your chicken will remain healthy.