Building a PVC pipe chicken coop and run is one of the best and easiest techniques to make a low cost portable chicken coop at home. If you want to do some DIY on Chicken Run with PVC pipes, then this guide will help you a lot.
What are PVC Pipes?
PVC pipes are mainly made up of white plastic material which are used for plumbing and Drainage purposes. The full form of PVC is polyvinyl chloride.
It is very durable and Rust free so nowadays most of the people use it for water supply in their home. But you can become creative by making so many useful things by using PVC pipes.
That's why we have published this complete guide on making PVC pipe chicken coop or tractor at home. Also, we have provided a list of few best chicken pen and run Ideas which are built with PVC pipes.
Benefits of PVC Chicken Coop and Run
Here are some benefits of making a coop with PVC pipes-
Easy to make– You just have to connect the pipe with the fittings and your coop is ready.
Lightweight and Portable– They are lightweight and you can use it as a portable chicken coop.You can move wherever you want.
Easy to Disassemble– Like wood houses, PVC coops have no complicated fittings. So, when you don't need them, you can easily pull the pieces and store them.
Make Any Shape– The best thing about PVC fittings is you can make any shape. Use some creativity and build dome, half sphere, rectangular, or any other type of design.
Clean look– As all the PVC pipes and fittings are while in color, the coop and run part looks very clean and beautiful. Your girls and boys love to graze inside the pen.
Strong– The most important thing is PVC pipes are very strong. So, the coop made from them is strong enough if you use hardware cloth in place of a plastic net blanket. If you have no fear of predators like foxes, wolves, and wild dogs, you can use plastic net blankets because they are cheaper than chicken wire.
Low cost– PVC pipes are easily available in near stores. Also they are very low cost materials, so you can easily make a pvc chicken tractor at home.
Equipments and Tools Required For Making a PVC Chicken Coop and Run
For making a beautiful predator proof PVC chicken coop and run, you need few important tools and equipment. You can buy them from your local hardware Store or you can order them online from below-
Last update on 2023-12-07 / Affiliate links / Images from Amazon Product Advertising API
Best 6 PVC Pipe Chicken Coop and Run with Low Cost DIY Ideas
Below are some easy to build plans for PVC chicken coop-
1. Rectangular Traditional PVC Chicken Tractor Plan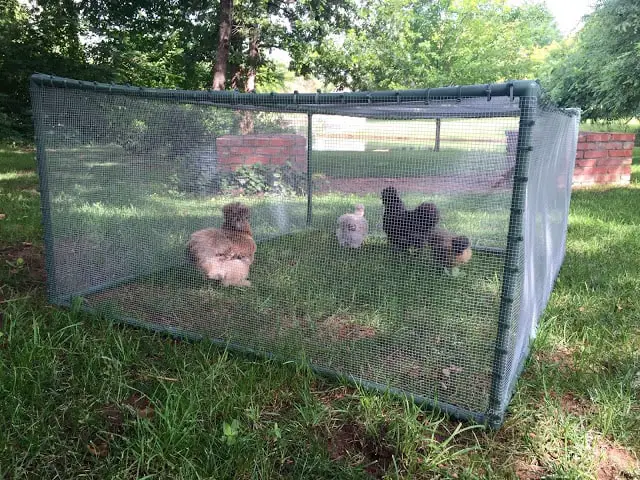 Image credit: elevengables.com
It is a simple rectangular PVC chicken run. Best for 5-7 number of chicken flocks. If you are looking for a portable PVC chicken coop plan then you can build this one withing few hours.
2. Chicken Barrow PVC Coop Design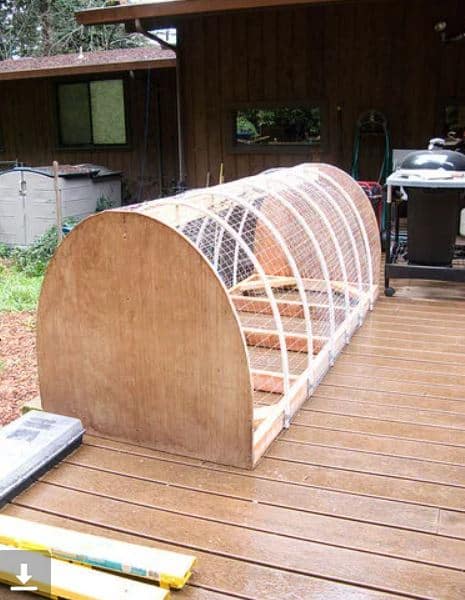 Image Sources: instructables.com
It is mixed with PVC and plywood chicken coop and run. This is best for 5-6 chicken. This kennel run is lightweight and easy to move from one place to another.
If you are searching for a homemade PVC pipe chicken coop you can take this idea to make one at your backyard. This also a low cost design.
3. Wheelchair Chicken Tractor PVC Run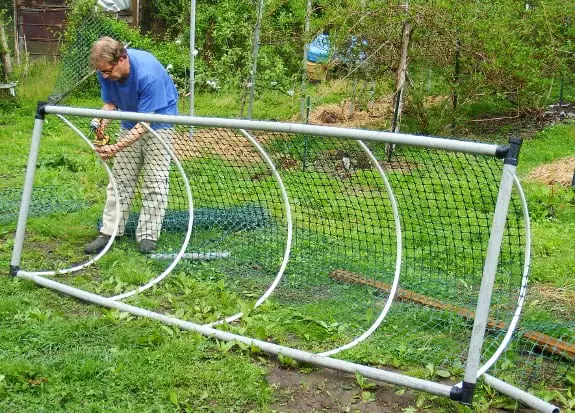 Image Source: waldeneffect.org
It is a half circle with rectangular base PVC chicken coop & run. It is easy to carry and best for 4-5 birds. You can make this design in few hours.
This PVC chicken coop free plan is portable and easy to made. You just have to build the rectrangular PVC base and then you need to bend the PVC pipe and connect them in semi-circle shape. At the end just tie the hardware cloth netting.
4. Hen Hideout PVC Chicken Tractor With Run
Source- backyardchickens.com
This is one of the complete PVC chicken tractor plan with all facilities for your flocks. It is best for 5-10 birds.
This portable PVC chicken coop has roosting area, kennel run, and also nesting boxes. Yes, it is a complex structure, but at the end it is a complete solution for every chicken comfort.
5. Dome Shape PVC chicken run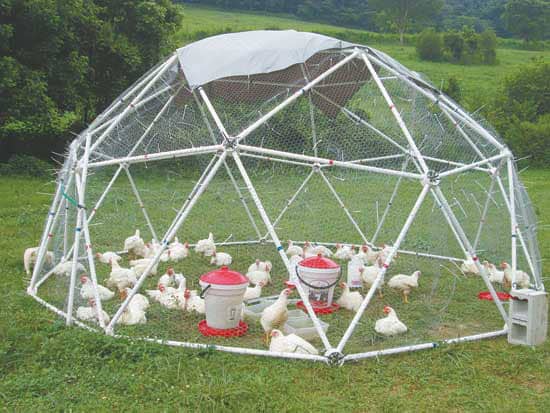 Image Credit: Grit.com
This design looks complicated, but it's an easy to be made PVC coop. This is best for 10-20 chickens.
You can put the feeder and drinkers in the kennel run area. It is a large size but portable PVc chicken coop plan which is easy to made within few hours.
6. Triangular PVC Chicken Coop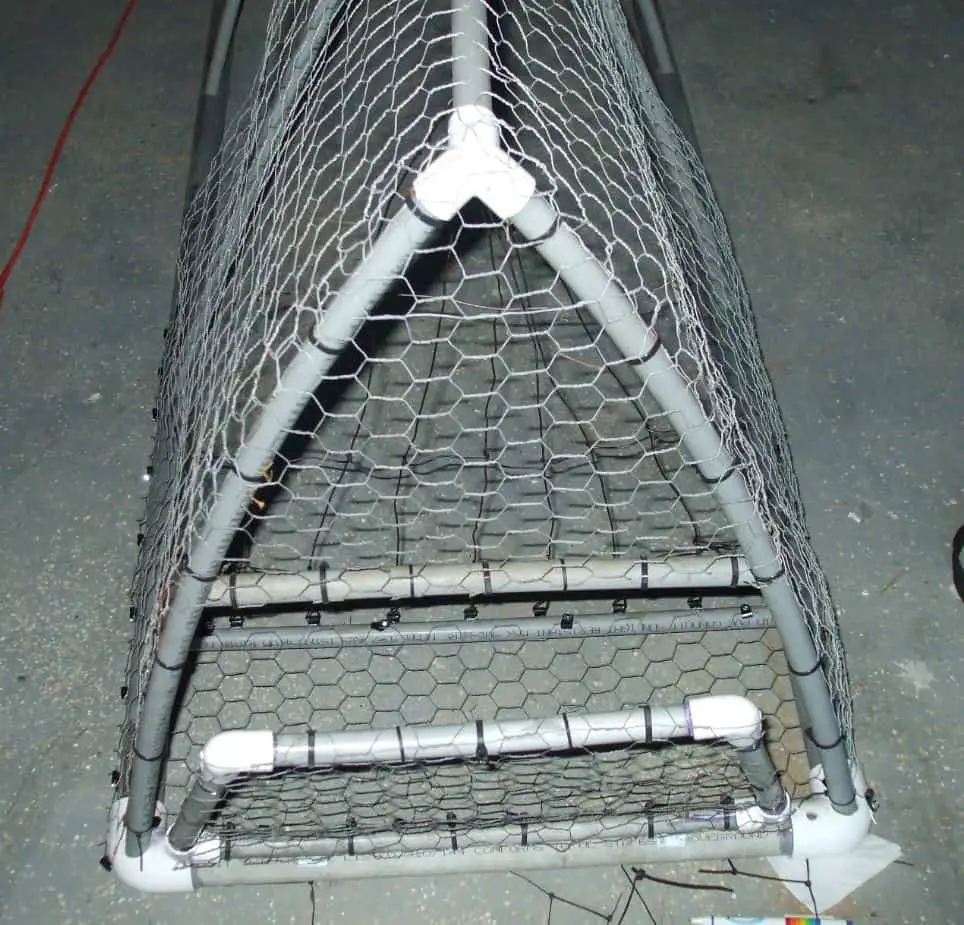 Image Source- jlmissouri.com
It is same like half circle design, but the upper part is triangular. It is easy to be made and portable.
In this design also you need some PVC connector and triangular attachments of pipes. Then cover them with 1′ mesh chicken wire or hardware cloth.
How to Build a PVC Pipe Chicken Coop With Run At Home?
Let's understand step by step how to build a chicken coop made up of PVC-
1. Select The Design
First of all, create an outline for your coop design. We have provided some beautiful PVC coop plans which will help you choose.
As we have already discussed, you can make any shape and design using PVC fittings. You can make shapes like semi-spherical, dome, rectangular, triangular, etc.
You can choose a design which suits your house, garden, or backyard. For example, If you build a big square PVC coop and you don't have a place for keeping that one, then it's useless.
2. Collect The Materials
Now you have a design so it's time to buy all the fittings and equipment to make coop and run with PVC pipes. 
We have provided a complete list of PVC pipe chicken run and coop parts in the starting of this guide. 
You need some PVC fittings of various Shapes like T, L, +, side outlet elbows, packets of nylon cable ties, and plastic net blankets.
Print or note down the list of materials and go to the nearest store. You can also buy them online from the links given.
Most of the farmers built their PVC coop and run using ½"- 1″ pipes and fittings. But coop made from 1″ pipes are double heavier than ½ " pipes. 
We recommend using ½" PVC pipes and fittings. Also, you need some other equipment like a scissor, wire cutter, lock, screw driver, etc.
3. Start Building Your PVC Chicken Coop and Run
Joining and building a PVC coop with run is very easy. follow the steps below to complete your PVC pipe coop project-
You have already selected your design. So, you know what size of coop your chickens need. If you are confused about that, here is our complete guide (How much space do chickens need?)
For example, If you have 10 chickens you need about 40 sq.ft. area for the chicken coop to run.
Keep 10 ft. On one side and 4 ft. On the other side for making a rectangular PVC coop.
Keep about 3-4 feet height for the run so it will be easy for you flocks to move.
To make the structure strong, divide the 10 ft. side of 4 parts of 2.5 ft. pieces and 4ft. side into 2 parts of 2 feet each.
Connect the cut area with 'T' Shape fittings and connect the corners with side outlet elbows.
Then use the elbow connector to make the complete structure more stronger.
Always use a measuring tape otherwise it will cause mistakes during cutting pieces.
Put some straight connections on the top part so that the structure will become more strong.
Now it's time to put the plastic net blanket or chicken wire. If you are using plastic net blankets, use scissors to cut them and if chicken wire, then use a wire cutter.
Use nylon cable ties to attach nets with the PVC pipes.
Your PVC coop with run is ready for your chickens.
Final Words
We have provided all information on making a portable chicken coop and run with PVC pipes. Hope this guide will help you make yours easy at home. 
If you still have questions, write below in the comment section. We will be happy to answer your questions.
And those chicken farmers who can make a beautiful PVC pipe chicken run after reading this guide must share your experience in building the portable and low cost PVC pipe poultry coop and run. 
Latest posts by Bijaya Kumar
(see all)