Are you searching for some best portable chicken coop plans and designs? If yes. Keep reading.
In this article, we have provided 21 best large and small chicken coop designs for free.
If you are a small scale chicken farmer and you have a few chickens in your backyard, these chicken coop ideas will really help you buy or make a lovely chicken tractor for your flocks.
This guide will help you get a wonderful idea and plans about chicken tractors. You can make your own chicken coop at home. We have provided some wonderful images with a description about the style and design of each coop one by one.
What is a Portable chicken coop?
A portable chicken coop is a movable and small size chicken house, easy to carry and move from one place to another.
People also call these types of poultry house as chicken tractors, movable coops, mobile coops because it contain wheels and they are lightweight. Wheels of chicken coops help them move from one place to another.
Pros of Portable chicken coop?
So, let's tell you some amazing benefits of portable chicken coop or tractor –
It is best for small scale chicken farmers who have 1-15 chicken flocks in the backyard.
Movable chicken coops are best to watch chickens health properly.
Easy collection of eggs.
Easy to provide feed and water to your flocks.
If you are growing some other vegetables in your garden, then a portable chicken coop is best to keep your chickens away from digging and eating your vegetables.
Feeding, drinking and playing area in a compact space so it's easy to maintain.
Keeps your chicken flocks safe from other animals like foxes, dogs, cats, etc..
So, let's show you some portable chicken coop plans and designs, which are lovely to see and easy to make..
Best 21 Free Portable chicken coop Plans and designs
1. Simple portable chicken tractor
If you are a small-scale farmer or you want to divide your chicken flocks in a 5-6 chicken batch, then this is a best portable chicken coop plan to build at home. You can keep only 1 chicken inside this coop.
It's a perfect coop for a small yard in urban areas. Below you will see a Kennel run, enough for 1-5 chickens and these types of coop are easy to clean. It doesn't contain any wheels, but is easy to carry due to its lightweight.
2. Frame design portable chicken coop
Above you can see a frame design portable chicken coop. These types of chicken tractors are very light. You can make them with wood or metal frames.
But we recommend wooden frames for less weight and help in cold. This is good for 1-5 chicken. On one side of this small chicken coop you can make a kennel run, and another side house for roosting and nesting.
Just throw some treat for your chicken inside the kennel area and they will love to peak. So, here is a mega list of What can chicken eat?
3. Simple frame style portable chicken tractor with wheel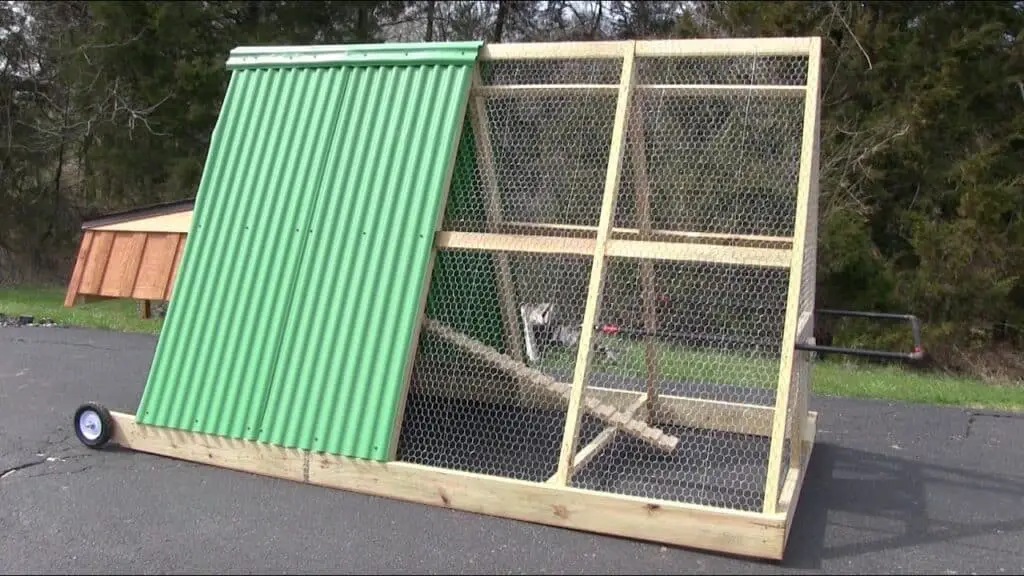 Photo credit – Tim Farmer (YouTube)
It is the same as the frame design wooden portable chicken coop but it contains two or one handle on one side and on another side of the coop you can attach two wheels to make a mobile chicken tractor. This chicken coop is portable for 3-5 chickens.
4. Rectangular movable chicken coop on wheel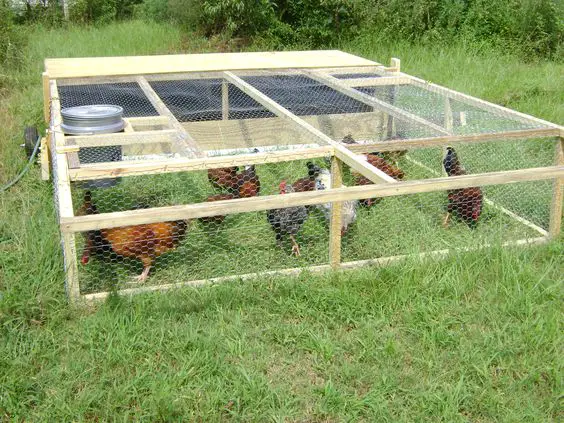 Photo credit – farmagain
It's an easy to make clean chicken coop design which you can make within a few hours. This design contains a rectangular coop for chicken on any side and other sides along 2-2.5 meter kennel run with height of 2 feet.
On the top of the nesting area you can make doors to collect eggs and to provide feed and water for your chicken.
5. Complete wheels rolling portable chicken coop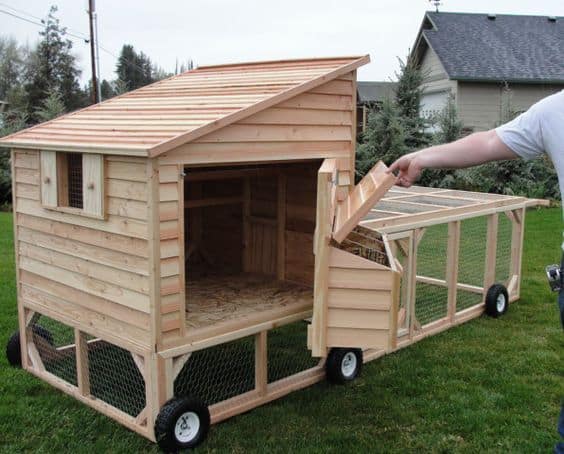 Photo credit – cochickencoops.com
These are a little heavy type of portable chicken tractors fitting 4-6 wheels to make them easy to move. You can also check online to find this design of a mobile chicken coop.
6. Curve with Rectangular Shape base Mobile chicken coop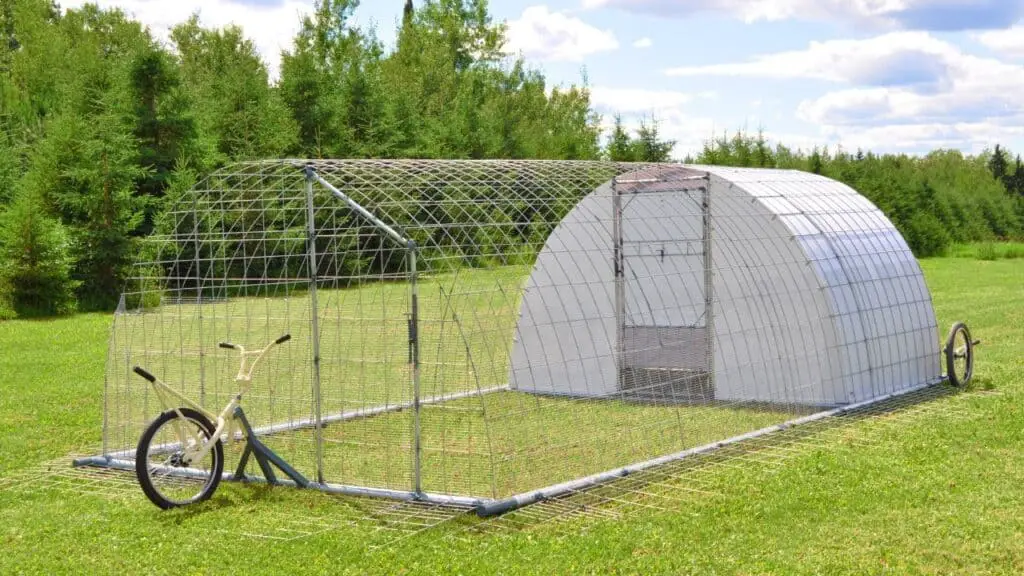 Image Source: Atomic Zombie Extreme Machines
It is a curved shaped mobile chicken coop. It contains wheels on the backside and a cycle design on the front side. They used big wire mesh or nets in this chicken coop. This movable chicken house is best for 10-15 chicken flocks.
7. Dome Shape mobile chicken coop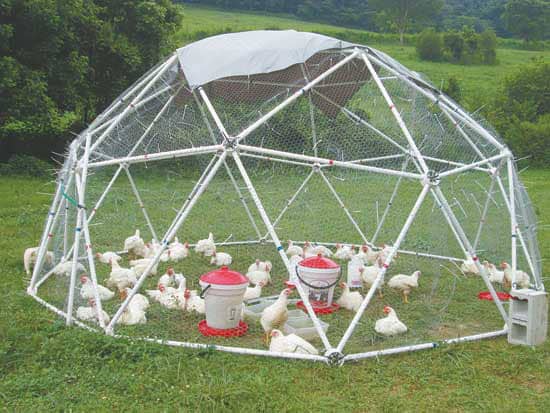 Image Credit: Grit.com
If you have over 10-15 chickens, then you can make these types of portable chicken tractor. Making them may be a little tricky so you can buy it online.
It provides wide space to your chickens and also they love to move that area for peaking feed. Just make a chicken house according to your requirement and then put the dome shape coop over it.
8. Small Chicken Coop with Planter, Clean Out Tray and Nesting Box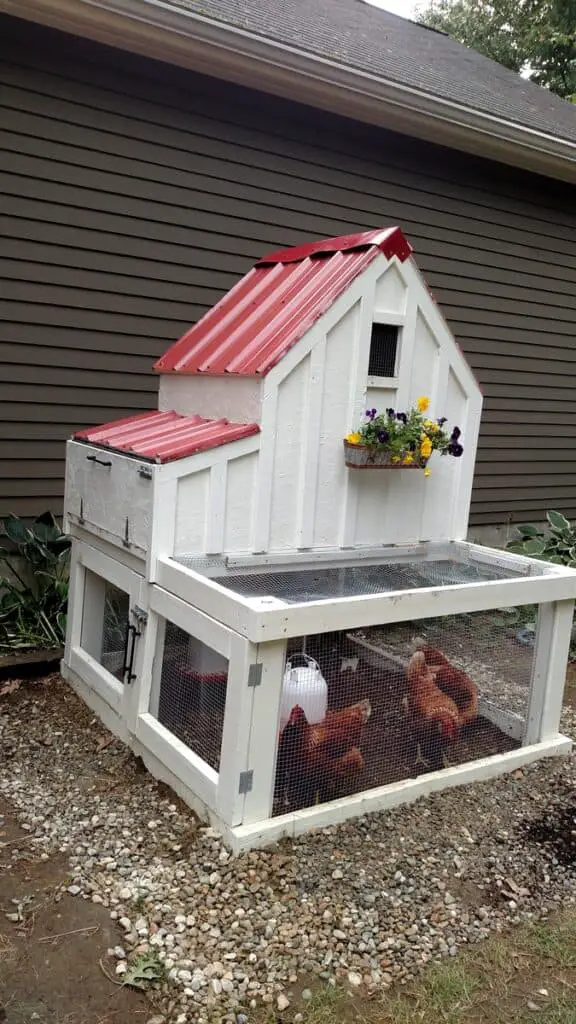 Image Credit: Ana-white
It's a small chicken coop with no wheel. But its size is tiny and easy to carry anywhere. It's a beautiful chicken coop plan that looks like a real home, with a small kennel run best for 1-5 chickens.
9. The Dorset Ranger Six Chicken Coop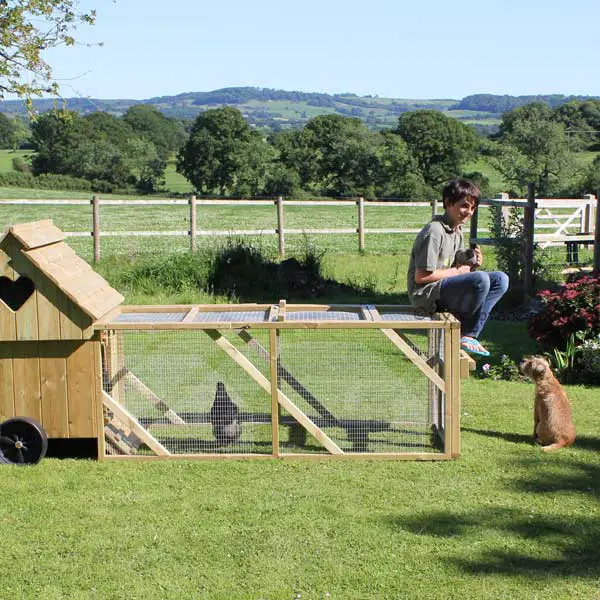 Image Credit: flytesofancy.co.uk
Dorset ranger chicken coop or tractor is best for 1-6 chicken flocks. You can design it at home easily or buy it online. It's one of the easy portable chicken coop plans for every chicken farmer.
This design contains a 6 feet long kennel run. Back side you will see two wheels for mobility and a handle for pulling it from one place to another.
10. DIY Portable Chicken Coop idea made with Dustbin and Grills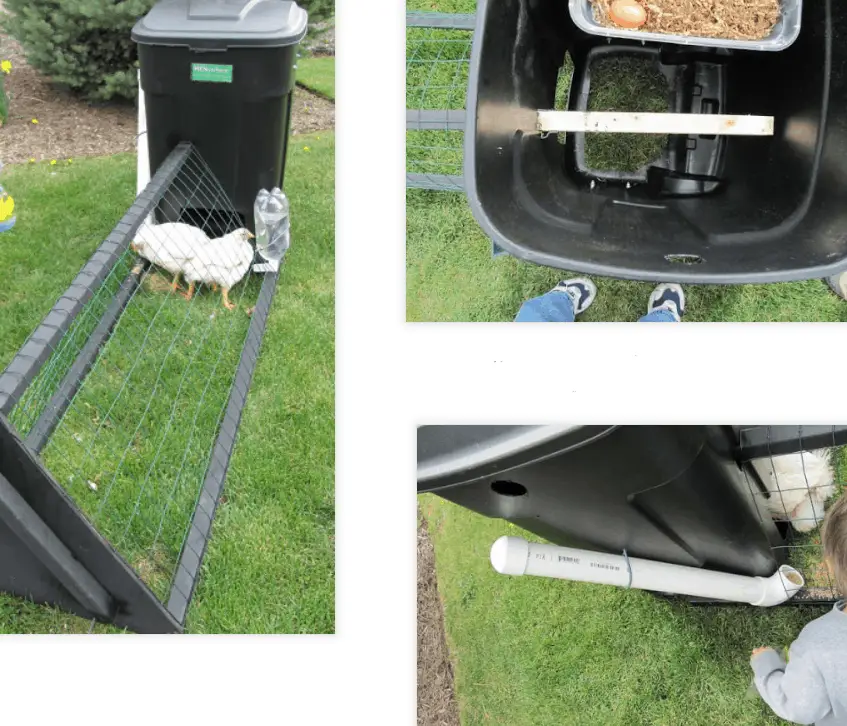 Image Credit – blossomsnblunders
We can make this portable chicken coop from a dustbin and iron grills. It's an amazing plan or idea with easy to get items from the nearest stores.
Here, the Iron grills were welded with hard wire mesh. The kennel is triangular. It's a good DIY portable chicken coop which you can build with backyard items.
11. Rooftop design chicken coop for 3 to 5 hens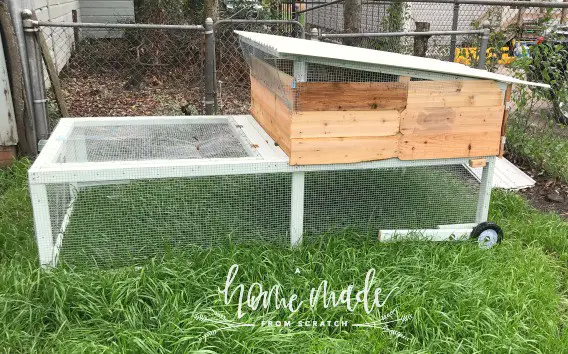 Image credit: ahomemadefromscratch.com
It is a unique design portable chicken coop best for 3-5 chickens. Here in this plan the entire base is a kennel run area, and on the rooftop is a chicken house. The roof of the chicken house is Plastic Pattern Sheets. Plastic sheets are light so they don't increase your coop weight.
12. Rectangular traditional portable chicken coop plan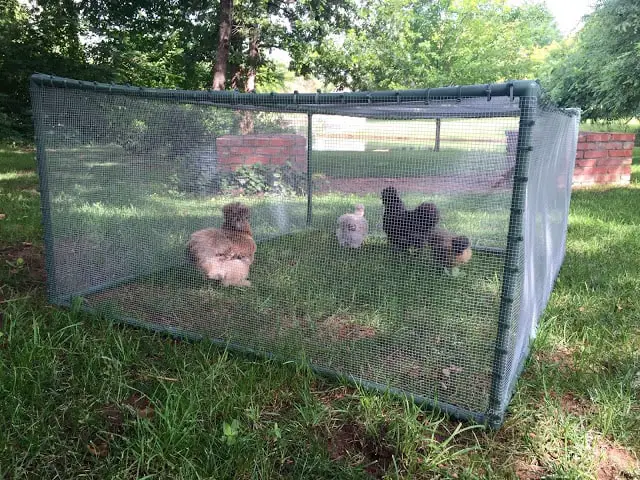 Image credit: elevengables.com
If you don't want to go tricky, this is a simple plan for a portable chicken coop. The structure of this coop is made up of PVC pipes which are joined using PVC cement or glue.
You can use ½ inch, 2 feet height hardware cloth or wire mesh for netting in the top and side of the coop. Attach the hardware cloth with pipe structure with cable ties.
13. Water tank design chicken coop DIY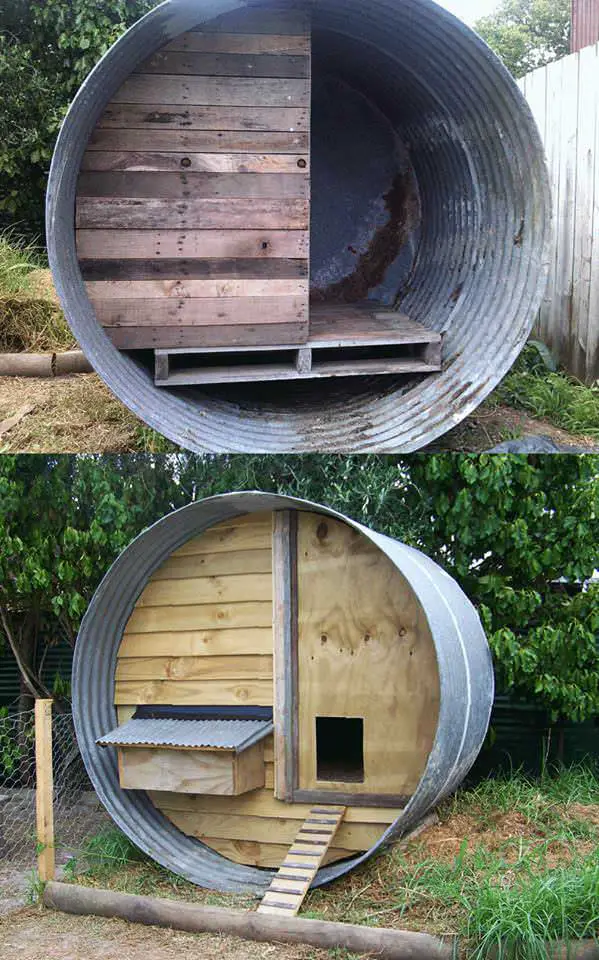 Image credit: recyclart.org
This is an easy chicken coop design you can make from an old oil drum or water tank. Yes, you can try to make it from other waste materials in your backyard. This design will really save your money.
We can make the entrance part of this coop from wood or plywood. This chicken coop is a little heavy, but we can easily make it mobile if we put four wheels.
14. The Palace Chicken Coop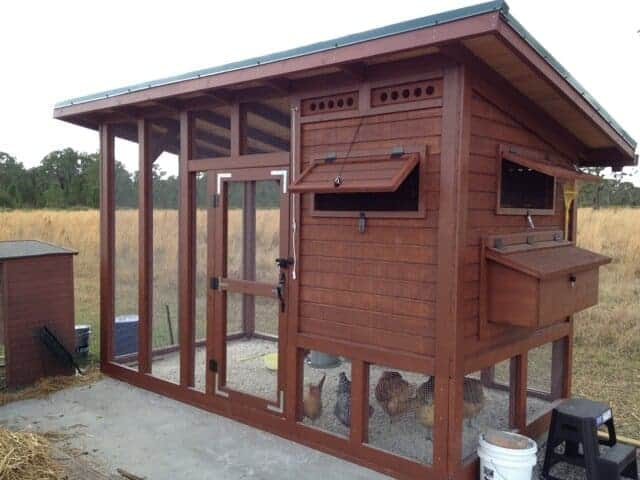 Image source: steamykitchen.com
If you design this chicken coop, it really looks like a palace. In this chicken coop plan, there's enough space for your flocks to move. The house part was built on the upper side of the kennel, good for making spacy coops.
But there are few cons of this portable chicken coop if you're searching for a mobile chicken tractor. They make this up of wood, so it will be hard to move, but with the help of 3-4 people you can move it.
15. Tractor design portable chicken coop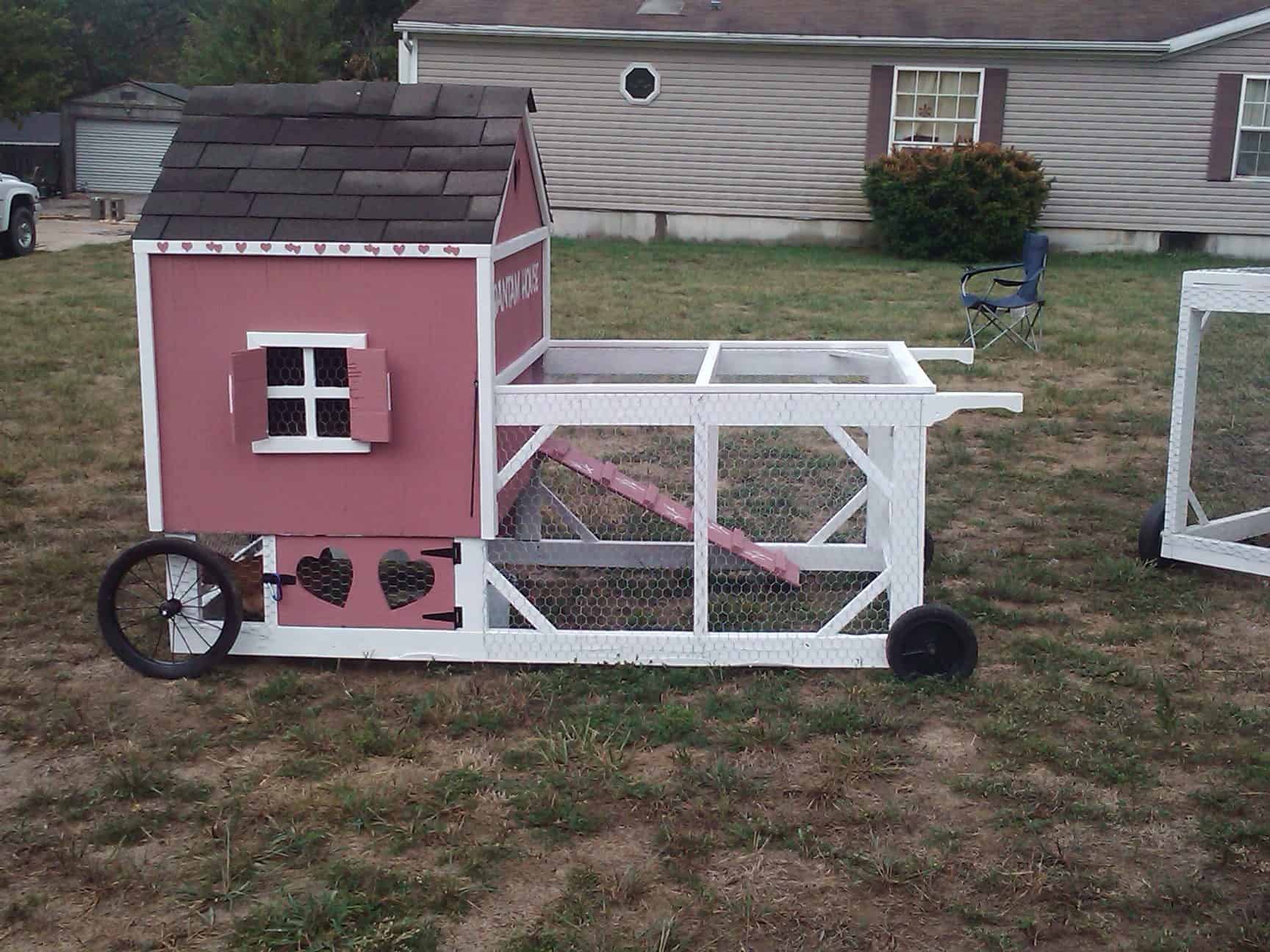 Image Source: BackyardChicken
It's a small portable chicken coop fully made from wood. This design is best for 1-5 chickens. You can use plywood in place of wood to make a lightweight coop. This coop looks like a real tractor.
16. Elevated chicken coop portable size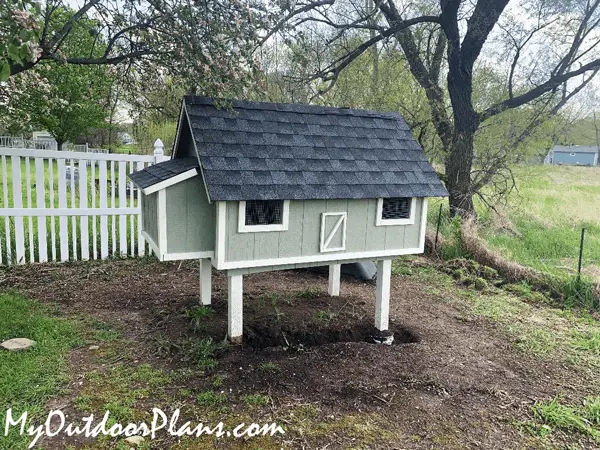 Image source: myoutdoorplans.com
This is an elevated design chicken coop for 5-10 chickens with nesting boxes. This chicken coop is easy to make and if you have all the equipment, you can make it within 24-48 hours.
Mainly these types of portable chicken coop do not have any kennel. It's just for roosting and nesting.
17. Budget friendly portable chicken tractor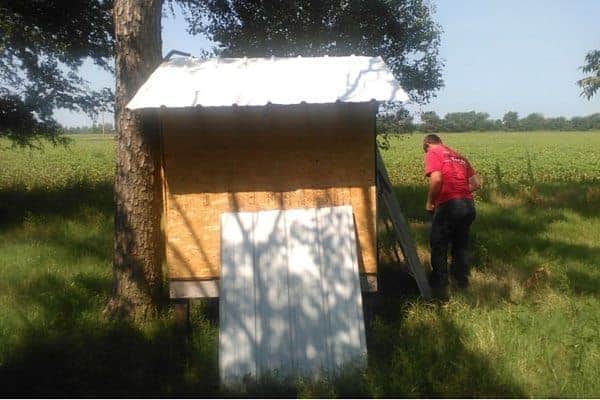 Image Source: thefrugalchicken.com
If you don't want to go for an extra budget, build this portable chicken. This plan is best for 5-10 chicken flocks. This is the easiest chicken coop plan which you can build within a few hours.
This design may be a heavy build, but a 2-3 person can easily move it from one place to another. But your girls will love to live inside and outside.
18. The Feather Factory Chicken Coop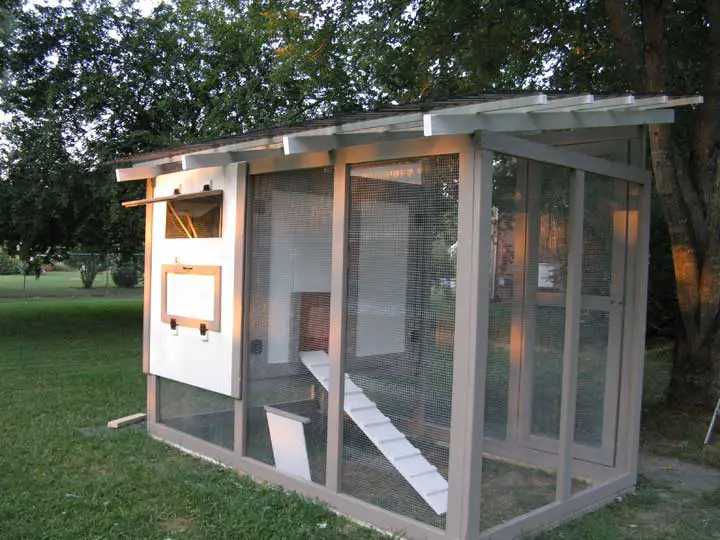 Image Source: backyardchickens.com
This is a beautiful chicken coop with well-ventilated design. It has a full kennel on base. Also, the inner part is painted white, which looks great.
It is best for 1-5 chicken. Inside the chicken coop, build a proper space for roosting and nesting.
19. Chicken Barrow coop design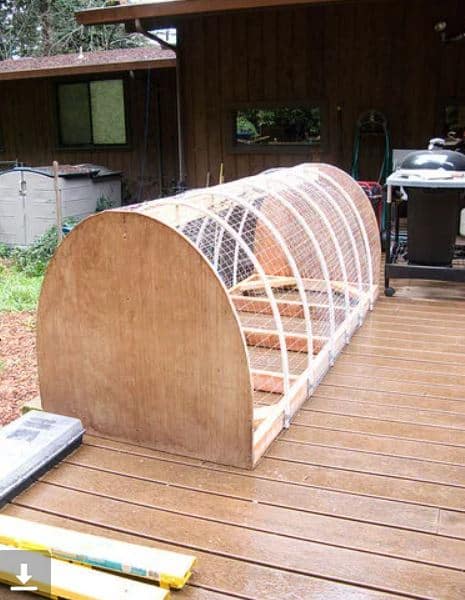 Image Sources: instructables.com
It's another curve design portable chicken tractor made up of PVC pipes. In this chicken coop plan you will see PVC pipes were bent in curve shape to make the structure of the coop. You can use ½ to 1" mesh hardware cloth to cover the coop. It's one of the lightest and easy to make a chicken coop.
20. Temple design portable chicken house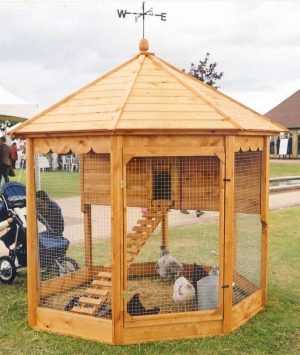 Image source: chickens.allotment-garden.org
This is one of the beautiful portable chicken coop plan in this list. It looks like a temple. The roosting and nesting area was made on the top area and is made in hexagonal shape with hardware cloth netting on its six sides. It's a good ventilation, beautiful and heightened portable chicken coop.
21. Bkeees Chicken Tractor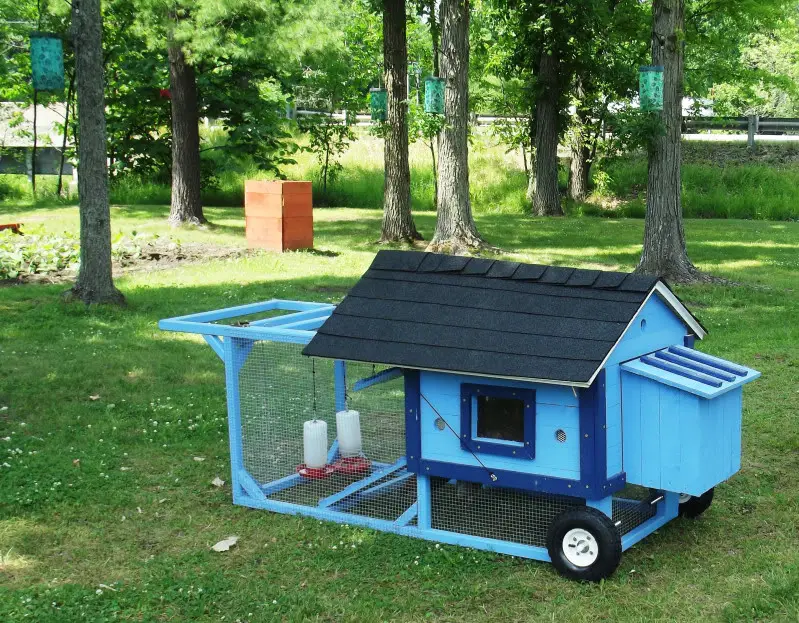 Image Source: Backyardchickens.com
It's a small cute design for 1-2 chickens. Your girls will love this coop. The feeders were hanged outside, which is a magnificent idea for ventilation during feeding. In the backside, you have to design a nesting box with an opening door.
Conclusion
So, these are the list of a few beautiful, compact, well designed, portable chicken coop design plans you can try. The smallest size chicken coop we like more is Bkeees chicken tractor and Complete wheels rolling portable chicken coop.
If you have a query regarding chicken tractor, submit your comments below.
Don't forget to share this article on your social media. Thanks for reading.